How To Complete Alerts in Hitachi Storage Navigator (VSP G Series)
Hitachi VSP G1xxx series is an enterprise storage system that supporting Scale-Up, Scale-Out and Scale-Deep to growing storage system in datacenter but every single administration action has specific challenge in this storage system, Hitachi wants to test our patience. We are using Stor2rrd for storage systems monitoring and our Hitachi VSP is added to this monitoring system. The monitoring system shows that VSP is in unhealthy status so I checked the alerts on Storage Navigators.
There was some uncompleted alerts that we did fix the issues on our storage system but alerts are still remains.
How To Complete Alerts?
This storage system is an unknown beast, each action should be done via different way, even clear resolved alerts on Storage Navigator. First of all, there is no way to do this on Storage Navigator.
You should launch "SVP Maintenance" tool. If you don't know what is that? I answer that the tool is an ugly tool and it's accessible via "Actions" menu in Storage Navigator.
Make Sure About Storage Components Health
Before doing any action, you should make sure about storage system health, so check the storage system hardware's components via "Maintenance":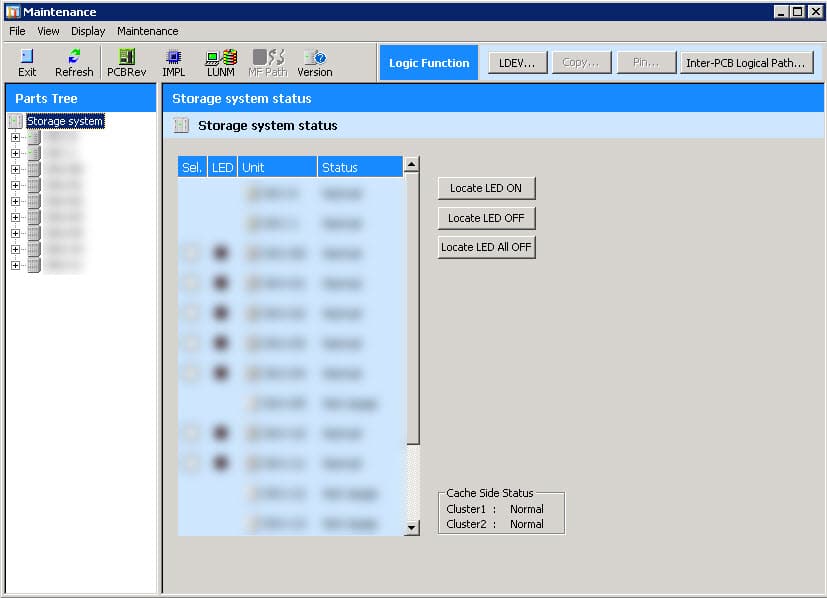 Now, Complete Alerts
Put SVP Maintenance to Modify mode and then click on "Information" big button 😀
You will see the below window:
Click on "Log…" (Who design that?!, it's look like my first Windows applications) and then you will see another modern Dialog Box:
Click on "List…" and then you will see the list of alerts with some alert codes that you can find reference of the codes on Hitachi guides:
You can check all the logs by selecting log and click on "Content…". Also if you select uncompleted log and click on "Complete", the alert will be completed in this list and Storage Navigator as well.
See Also
[Review]: Free SAN/Storage Performance Monitoring – STOR2RRD
What's New in Dell EMC Unity OE 5.0.0.0.5.116