Vembu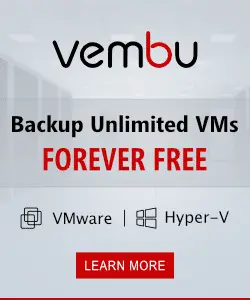 Vembu, a rapidly evolving Backup & Disaster Recovery company, with their latest release, Vembu BDR Suite v3.7.0 has come up with a comprehensive free edition for data centers which deploy both virtual & physical environments. The free edition will be beneficial to all those who wish to try out Vembu BDR Suite in their production and testing environments without any costs.
Try the Free Trial here – https://www.vembu.com/vembu-bdr- suite-download/
Unlike other free edition softwares available in the market, The Vembu BDR Suite Free Edition will cover up all the major features needed for the Backup & Recovery for multiple requirements of a data center.
Vembu BDR Suite covers the below environments as follows:
Free VMware Backup:
Vembu VMBackup Free Edition for VMware is offering backing up of unlimited VMs running on an ESXi and vCenter server without any costs involved especially for the businesses which do not have any sophisticated data protection method to protect their VMs.
Supports multiple VMware transport modes like Direct SAN, HotAdd and Network based (NBD & NBDSSL). VMBackup automatically analyses and chooses the appropriate transport mode. Vembu VMBackup provides fast and flexible Recovery options and also provides recovery of individual files and folder from the backed up data
Free Hyper-V Backup:
Vembu VMBackup Free Edition for Hyper-V is built to overcome the complexities in creating backup policies for VM's running on Hyper-V server. Vembu has developed its own proprietary driver to backup the Hyper-V VMs in an efficient manner especially with up to 5X improvement in performance over other backup software.
VMBackup supports the VMs located in Hyper-V Cluster Shared Volumes and the Windows SMB share.
Hyper-V backups take consistent snapshots application-specific highly transactional applications like Exchange Server, SQL Server using Microsoft VSS writer and truncate the transaction log files during the backup job. Vembu VMBackup free edition for Hyper-V is designed to protect the Microsoft's server both at the Host level and VM level.
Free Windows Server Backup:
Vembu was providing a free edition of its software only for workstations like Desktops & Laptops, but now it has been now extended to Windows Servers as well. Vembu ImageBackup Free Edition is a Backup and Disaster Recovery solution for physical Windows environment. It will backup entire disk image of Windows Servers, Desktops and Laptops including operating system, applications and files. Also, Vembu ImageBackup helps in migrating the windows machine from the physical environment to virtual environments like VMware or Hyper-V (P2V).
About Vembu Technologies:
Vembu is a leading provider of a portfolio of software products and cloud services to small and medium businesses for more than a decade. Vembu's vision is to make software and cloud services very affordable for the hundreds of thousands of small and medium businesses worldwide.
Vembu's flagship offering is the BDR Suite of products meant for on-premise, offsite, cloud backup and disaster recovery across diverse IT environments including physical, virtual, applications and endpoints. Vembu CRM Suite consists of products that addresses the needs of all customer facing teams including support, sales, marketing & social media engagement.
Since 2002, Vembu's industry-recognized data protection solutions have delivered tangible value to more than 60,000 businesses worldwide through a network of 4000+ partners (MSPs/VARs & Resellers).