[How To]: ESXi Installation Stopped – partedUtil Failed
ESXi Installation Stopped with partedUtil Failed Message
ESXi installation is too easy for any administrator, it's no difficult process. But same as any installation process, you may be face with some issues and spent time to resolve it.
If you have installed ESXi on your server, it's better to upgrade it or if you have plan to replace current installation with fresh installation, you should clear the disk properly.
If the disk is a logical drive and created from a RAID, the RAID configuration should clear properly too.
Otherwise, you may face with the below issue during ESXi installation:
partedUtil failed with message : Error: The primary GPT table states that the backup GPT is located beyond the end of disk.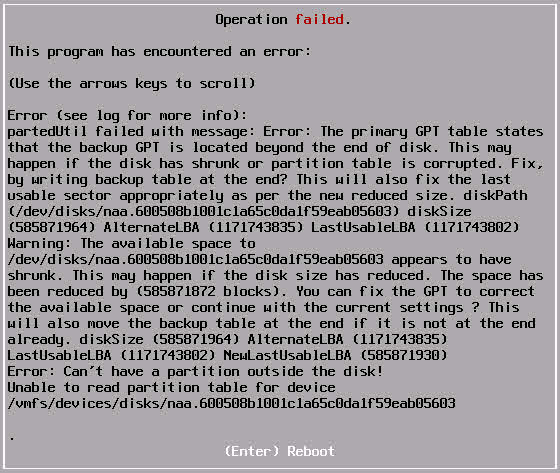 How It Resolve?
Resolving this issue is so simple, just delete logical drive and RAID configuration and then create them again.
If the server is HPE ProLiant G7 or older, use HPE Smart Storage Administrator instead of traditional RAID manager. HPE Smart Storage Administrator is available on HPE Service Pack For ProLiant.
Start the installation again and you will not face with the issue again.
Read More on Teimouri.Net:
Hewlett Packard Enterprise Information Library
[Review]: What's FlexibleLOM, FLR and FLB?
HP Integrated Lights-Out 3 (iLO 3) – ESXi VM's Showing 100% CPU Usage While Host CPU is Low
FIP VLAN ID unavail. Retry VLAN discovery