[Review]: VMware Virtual SAN (vSAN)
What's VMware Virtual SAN (vSAN)?
VMware Virtual SAN or vSAN is a software-defined storage or hyper-converged infrastructure and it's fully integrated with VMware vSphere. vSAN create a software defined storage area from local storage devices or direct attached devices. vSAN supports vSphere features that the features needs shared storage such as HA and DRS. vSAN is also fully integrated with desktop solutions and any virtual machine will be provisioned and protected on vSAN.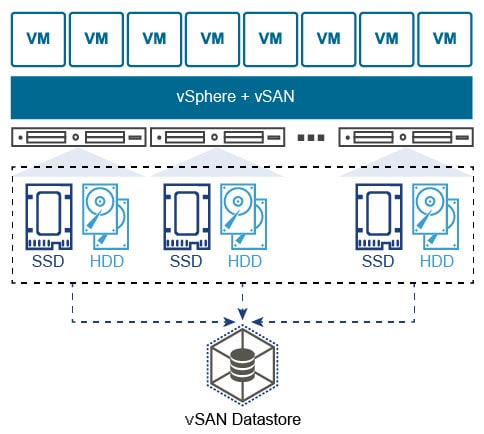 vSAN Use Cases
vSAN can be implemented for any virtualization scenario but VMware vSAN is suitable for the scenarios that those scenarios require high performance but has limited budget.
Some scenarios are as follows:
Remote Office Deployment: When IT departments has low budget to implement services same as main site with high performance in remote offices.
Disaster Recovery: Disaster Recovery site will help you too keep alive your services during disaster but implement all services on DR site same as primary site needs huge budget. vSAN offers designing and implementing DR solution with much lower cost.
Management Cluster: Use different cluster is good solution to separating management servers workloads such as vCenter Server, Active Directory, DNS, DHCP and any other infrastructure services with customers services. vSAN is easy and perfect solution for create high performance storage for management servers.
Reduce IT department cost is final goal of using vSAN.
vSAN Requirements
Same as any other software and feature, vSAN has some requirements to work properly.
The below requirements are needed for deploying vSAN:
Hardware Requirements
Storage Components:

Cache: One SAS or SATA solid state disk (SSD) or PCIe flash device.
Virtual machine data storage

For hybrid group configuration, make sure at least one SAS or NL-SAS magnetic disk is available.

For all-flash disk group configuration, make sure at least one SAS or SATA solid state disk (SSD) or PCIe flash device.

Storage controllers: One SAS or SATA host bus adapter (HBA), or a RAID controller that is in passthrough mode or RAID 0 mode.

Memory: The memory requirements for Virtual SAN depend on the number of disk groups and devices that are managed by the ESXihypervisor. Each host must contain a minimum of 32 GB of memory to accommodate for the maximum number of five disk groups and maximum number of seven capacity devices per disk group.

Flash Boot Devices
Cluster Requirements
All capacity devices, drivers, and firmware versions in your Virtual SAN configuration must be certified and listed in the Virtual SAN section of the VMware Compatibility Guide.

A Virtual SAN cluster must contain a minimum of three hosts that contribute capacity to the cluster.

A host that resides in a Virtual SAN cluster must not participate in other clusters.
Networking Requirements
Dedicated 1 Gbps for hybrid configurations

Dedicated or shared 10 Gbps for all-flash configurations

Each host in the Virtual SAN cluster, regardless of whether it contributes capacity, must have a VMkernel network adapter for Virtual SAN traffic.
All hosts in your Virtual SAN cluster must be connected to a Virtual SAN Layer 2 or Layer 3 network.
Multicast must be enabled on the physical switches and routers that handle Virtual SAN traffic along the Layer 2 path and (optionally) the Layer 3 path.
The Virtual SAN network supports both IPv4 and IPv6.
Conclusion
VMware Virtual SAN (vSAN) is not new solution but there is some advanced features and integration with vSphere that the features helping IT department to deploying different scenarios with high performance storage. vSAN reducing cost for most scenarios such as implementing DR site.
More on Teimouri.Net