HPE Workload Accelerator
HPE Workload Accelerator is a PCI-e NAND flash SSD storage that it can help you to improve your services performance. HPE Workload Accelerator is closet to CPU and it can read and write data with higher speed compare to other storage and CPU does its task with lowest latency.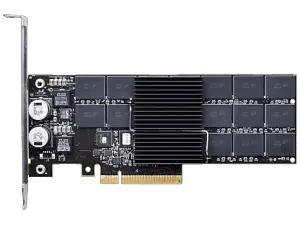 HPE Workload Accelerator is suitable for big data, VDI, database and any process that it has high workload.
Also this technology is available for Blade System as mezzanine card and deliver same experiences.
HP Workload Accelerator is compatible with Windows, Linux and vSphere and HPE has provided driver for the OSes and hypervisor that the drivers are available on HPE Workload Accelerator support page.
HP Workload Accelerator is available with 350GB capacity to 6.4TB capacity.
You can choose it according to your service requirements.
You can use HP Workload Accelerator as swap in Linux or put your database file on it in database servers or keep your sensitive virtual machine on it.