Proxmox Virtual Environment
Proxmox Virtual Environment is a management server for KVM hypervisor and container based hypervisor LXC. It has been made from Debian and has customized RHEL kernel.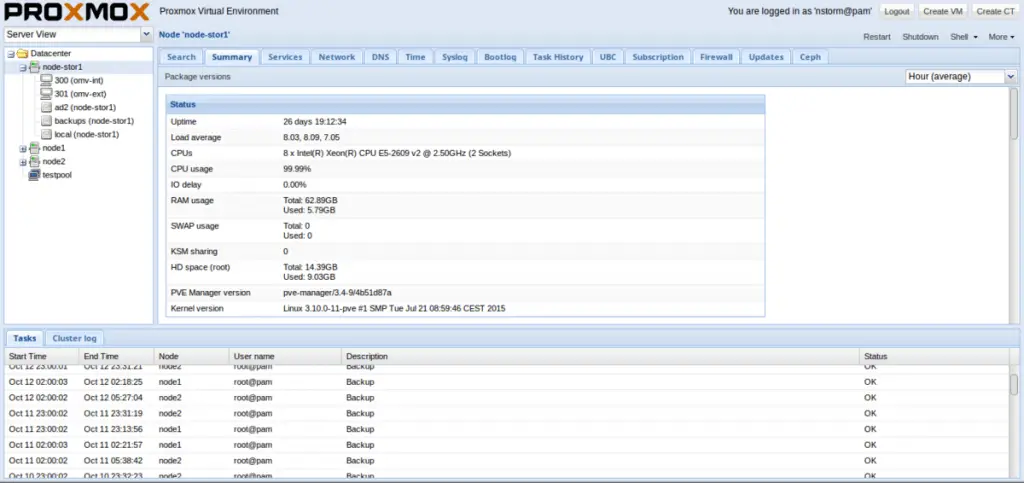 Proxmox Virtual Environment has web based management console and command-line management.
Proxmox Virtual Environment name is no meaning and just chosen because the domain name was available.
Proxmox Virtual Environment has clustering feature like live migration and HA and it is supporting iSCSI, FC, NFS and … .
Proxmox VE can be clustered across multiple server nodes.
Since version 2.0, Proxmox VE offers a high availability option for clusters based on the Corosync communication stack. Individual virtual servers can be configured for high availability, using the Red Hat cluster suite. If a Proxmox node becomes unavailable or fails the virtual servers can be automatically moved to another node and restarted. The database- and FUSE-based Proxmox Cluster filesystem (pmxcfs) makes it possible to perform the configuration of each cluster node via the Corosync communication stack.
Proxmox is not free and you need pay for each physical socket.
You can download it and test it as an live CD.