vCenter Server: Best Solution to Deploy without DNS Server
If you have plan to deploy vCenter Server Appliance (vCSA) without DNS server, installation will be failed, if you have add standard information for deploying virtual appliance. Because installer ask you to add FQDN of server before start to deploy. By adding FQDN, installer will be try to resolve it.
vCenter Server Without DNS, Is That Possible?
You will face with the below errors or some others:
The supplied System Name ….. is not valid.
Could not connect to VMware Directory Service via LDAP.
If you want to use the server in lab, there is no need to assign resource for name server. So follow the below instructions:
Deploying and installing vCenter Server Appliance without DNS Server
Deploy OVA File Directly
You can deploy vCSA from installer or deploy OVA file directly. You can find the OVA file in the image and import OVA to VMware Workstation or ESXi or any other supported system.
Network Configuration
Do not add any address in "Host Network DNS Servers" and add the server IP address as "Host Network Identity".Note: If you have name server in your lab and it will be reachable, you can add it.
Networking Properties
Do not add anything as "Domain Name" and "Domain Search Path".
With the above configuration during deploying OVA file, you can complete installation after deployment without any error. You will face with a window like the below and force installer to use existing configuration and make sure that IP address has been added as system name too.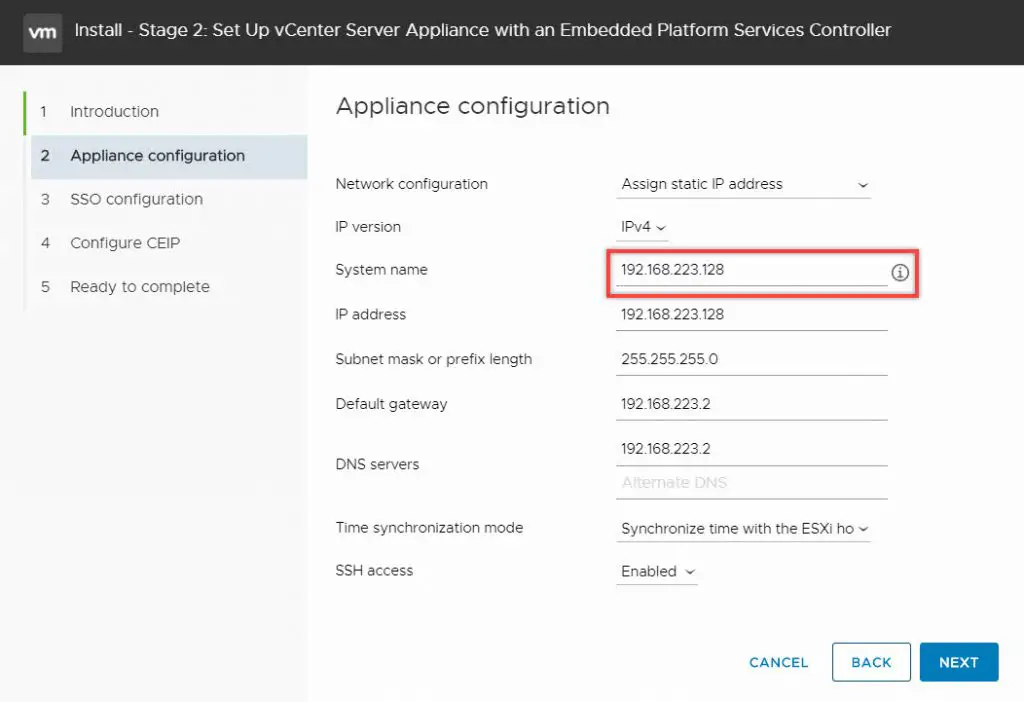 Further Reading
How do I export a database query of the PCoIP Management Console?
Remove _deviceImage-0.iso From ESXi Datastore
VMware Tools Client – Interact with a VM without Network Connectivity
Why Device Bay IP Doesn't Change in HPE BladeSystem?
New Features in vSphere 6.7 Update 1
External Links