vSphere Central, The Messenger of God
What's vSphere Central?
The God (VMware) is releasing new version of their products every year, sometimes you'll get new notification about new patches every day. Thank you about all efforts but please slow down! Installing new versions or upgrading current versions need to installation/upgrade instructions. The instructions are like Holy Bible for any administrator. So who is the messenger? Who has the Holy Book? Fortunately, The God has sent the messenger and God called it vSphere Central.
vSphere Central brings together a variety of technical assets from VMware that helps users understand how vSphere works, how to implement various features, plan upgrades, and more.  With content in a range of formats, including text, video, and rich media tools such as walk-through demos, the goal is to be a one-stop shop for original and curated technical content on vSphere.
vSphere Central Categories
All technical assets are categorized in the below categories:
vCenter Server: The newly reimagined vCenter Server includes many important enterprise capabilities, such as native high availability, file-based backup and more.
Security: Information on ESXi & vCenter Security and Operations, including secure configuration and hypervisor security.
ESXi Host and Virtual Machine: Information on ESXi Host Lifecycle and configuration of ESXi, including Networking and Storage, as well as Virtual Machine lifecycle technologies and tools.
Resource Management and Availability: From the individual host to multiple datacenters, vSphere has a wealth of technologies that ensure the most optimal use of resources in an automated way.
Operations Management: vSphere with Operations Management adds intelligent operations and consistent management to vSphere. It provides better insights, resulting in better performance and availability.
Developer and Automation Interfaces: VMware vSphere provides a broad and powerful set of interfaces to enable developers to integrate with vSphere functionality and to enable easy automation both programmatically and interactively.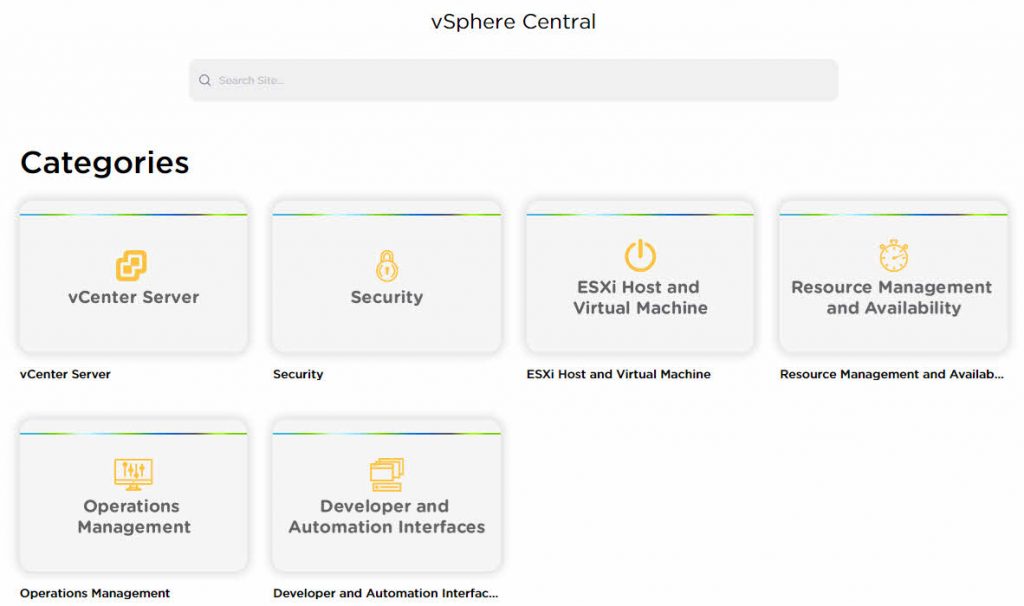 vSphere Central Applications
VMware Central contains the below applications:
Pathfinder, Product Use Cases (Fi
Checklist, Troubleshoot
FAQ, Support & More
The first item is including all categories actually. So if you click on it you will redirect to home page again.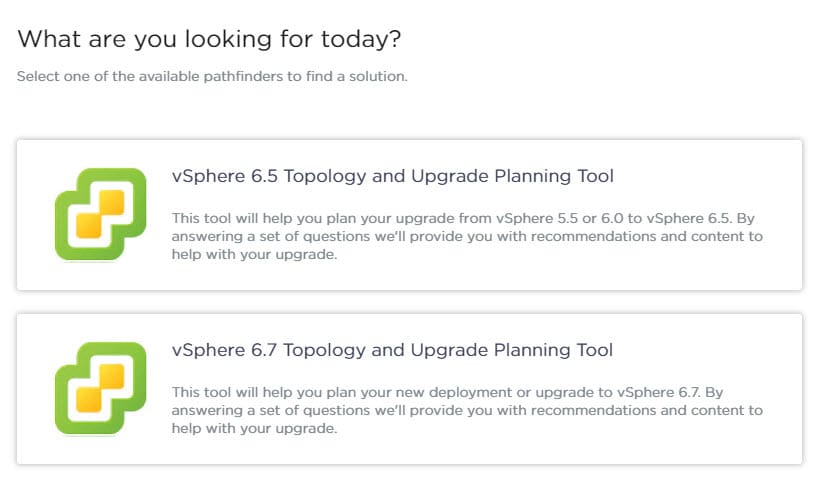 See Also
New Features in vSphere 6.7 Update 1
[Script]: Find ESXi HBA WWN via PowerCLI
Guest Connected vs RAW Device Mapping (RDM)
[Review]: vSphere 6.5 Update 2