vSphere 7 Upgrade Series – Part 1: Define Upgrade Path
This post is first part of vSphere 7 Upgrade Series which about vSphere upgrade path to vSphere 7.
Important Questions Before Upgrade
Usually, major version of any software comes with new features and massive improvements, so you should ask these questions before upgrade:
Do we need to the new features or we can continue with current stable version?
Do we have enough budget for buy new hardware or upgrade licenses?
Is there any other component that we have to upgrade as well?
No: Just read the post and do nothing.
Yes: Read the post and share your experiences with me as well.
How To Define Upgrade Path?
IT Solutions have lots of components, each component serving another component at least. As a part of infrastructure, VMware vSphere has effect on many components in your IT services. Some solutions and services needs VMware vSphere services and some other services delivering what VMware vSphere needs or there is two-way communication.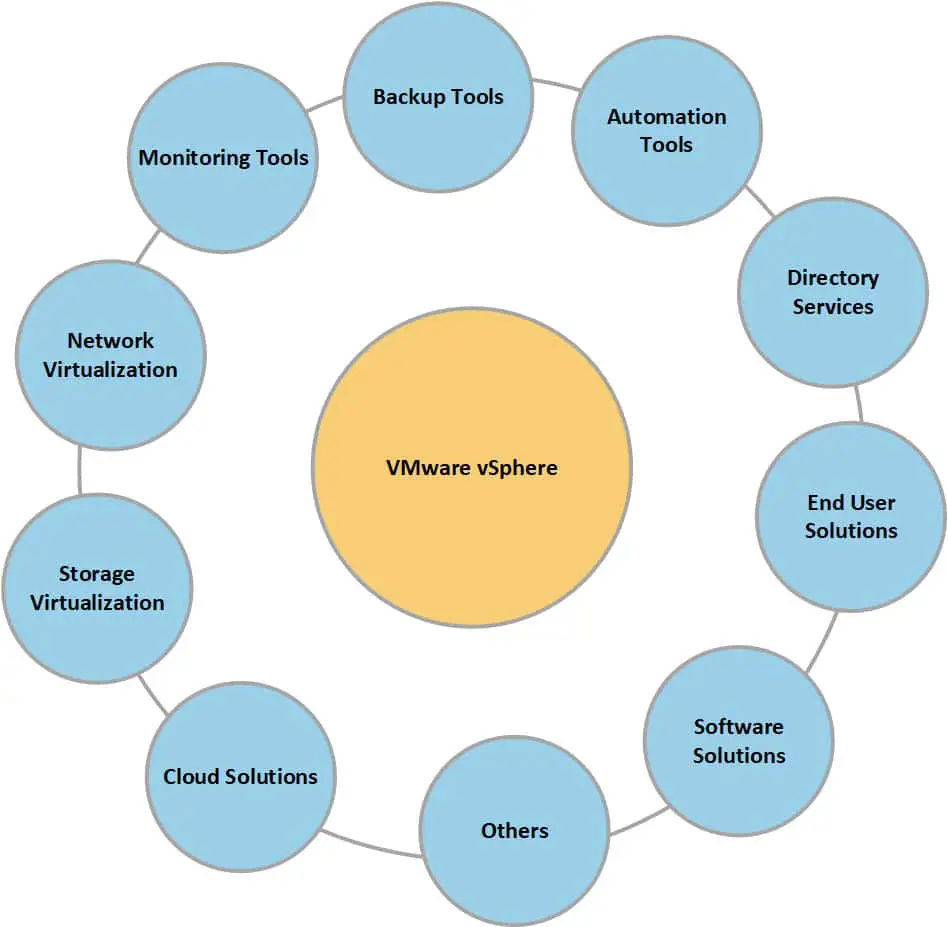 There are three types of software in VMware vSphere based virtual infrastructures:
VMware Products and solutions
VMware Partners Products and solutions
Other Products and solutions
Compatibility is the most important factor between those software and solutions.
First, Other Products and Solutions
Actually, VMware vSphere is core components to make the infrastructure which serving other products and solutions. But these products and solutions must have compatibility with VMware vSphere.
VMware vSphere delivers an infrastructure to create virtual machines (As the main feature), virtual machine needs to Operating System to be operative. So Operating System is the first and most important components which should compatible with the infrastructure.
New VMware vSphere comes with improvements and supporting new Operating System usually and I don't have experiences about ending support of an Operating System but if you have special service with special Operating System, check the compatibility before upgrade.
Some solutions like SAP HANA has best practices on different version of VMware vSphere, you need to check the solutions compatibility as well.
VMware Partners Products and Solutions
VMware offers many solutions for monitoring, backup and whatever else that IT infrastructure needs. VMware also has many partners over the world, the partners offering many solutions for virtual infrastructure. I'm sure that many customers are using both VMware products and partners products same time.
Veeam is one of most famous partners which offers products about monitoring, backup and replication. Actually, most partners offers same products with same capabilities. In most of cases, partners release patch for current version to keep compatibility with new major version of vSphere but sometimes you need to upgrade and pay for license upgrade.
You have to keep compatibility between your virtual infrastructure and these solutions, so do the below:
Check current solutions compatibility with new VMware vSphere version.
If there is incompatibility, wait for new patches or upgrade.
VMware Product and Solutions
This is most important step and also easiest step. Why? Because VMware has VMware Product Interoperability Matrices.
You can find compatibility between any product and any solution with another in this web portal and also it has a section to find upgrade paths.
Upgrade other solutions and products before upgrade VMware vSphere. As an example, if you have deployed end user solutions such as VMware Horizon, you should check the current version compatibility with VMware vSphere (New version) and upgrade VMware Horizon components first.
Conclusion
Any new version of any software comes with new features and improvements but upgrade has cost, it can be money or even your job. So don't excited with new features, think about them and if you really need them and you are ready to pay the costs, then do upgrade.
Define your upgrade path and act rationally.
Further Reading
What's Removed From VMware vSphere 7?
What's New in Hardware Version 17?
Optimized Setting for VMware vSphere on HPE G10 Servers(Opens in a new browser tab)