Unity XT Metro Node (1st/2nd Generation): Protect Your Data and Applications from Disaster
Unity XT Metro Node will enable business continuity for your infrastructure. Unity XT storage arrays are designed for performance, optimized for efficiency and built to work in multi-cloud environment. Actually, Unity XT storage array is mid-range storage array family, but this family is capable for enterprise workloads. Enterprise businesses needs protection and needs business continuity solutions. Typically, mid-range storage array has no native business continuity solution, but Unity XT offers Unity XT Metro Node as business continuity solution.
What's Unity XT Metro Node
Unity XT delivers true metro active-active capabilities with zero performance impact on the storage controllers or data path with Unity XT metro node. Metro configurations are the next step in a truly disaster resilient architecture, enabling business continuity without intervention.
Enable automated business continuity with zero RPO and RTO with Unity XT metro node. True active-active synchronous replication over metro distances with multi-site dual access gives organizations full confidence that their data will always be available and accessible and there is no time associated with recovery.
Metro node provides greater flexibility through multi-platform support, workload granularity and replication to any array. There is zero performance overhead, no duplicate capacity on the array and no additional software required on the host. The VM witness technology provides the ability to automatically initiate an instant site failover. Metro node supports local configurations for continuous application availability, data mobility to non-disruptively relocate workloads and enables storage technology refresh without application downtime.
Unity XT Metro Node Differentiators
Zero RPO and RTO
Metro node is an active-active solution, which means it actively mirrors data across metro distance. Metro node provides a Recovery Point Objective (RPO) equal to zero, meaning there will be zero data loss. Metro node also provides a zero Recovery Time Objective (RTO), which means the time to recover is zero time or immediately.
Automatic Site Failover
The witness virtual machine helps mitigate a site failure.
Active-Active Metro
Metro node provides optimized data access from both sites for increased performance.
Avoid Degradation to Array Performance
Metro node replication is built-in to the appliance without any array overhead increases.
No Additional Host Software
Metro node is self-contained and does not require any software be deployed on the hosts or a host reboot.
Multi-Platform Support
Metro node enables replication between different Dell EMC arrays.
Volume/LUN Level Granularity
Metro node allows the replication of specific LUNs for application level granularity, significantly reducing TCO and improving flexibility by giving customers the choice of which workloads to replicate.
Non-disruptive Addition of Consistency Groups
Metro node supports consistency group add/delete operations without disruption and provides operational flexibility with zero downtime.
What Are Use Cases For Unity XT Metro Node?
When you are planning for business continuity, one thing is very important:
Having Multiple Data Centers
Multiple data centers at different geo locations will help you to keep business safe against disasters. But you have to keep synchronized data between multiple data centers. Some solutions have native replication such as Oracle Database, SQL Server and so on. But maintaining services in multiple data centers is very complicated.
Unity XT Metro Node will help you to replicate data between data centers without additional hardware or software but you have to design your infrastructure services as stretched cluster. Both physical infrastructure and virtual infrastructure solutions supporting stretched cluster design.
As an example, VMware vSphere supporting metro storage cluster or stretched storage cluster. Unity XT Metro Node will help you to design your virtual infrastructure by this architecture and vSphere HA cluster will acting in both site.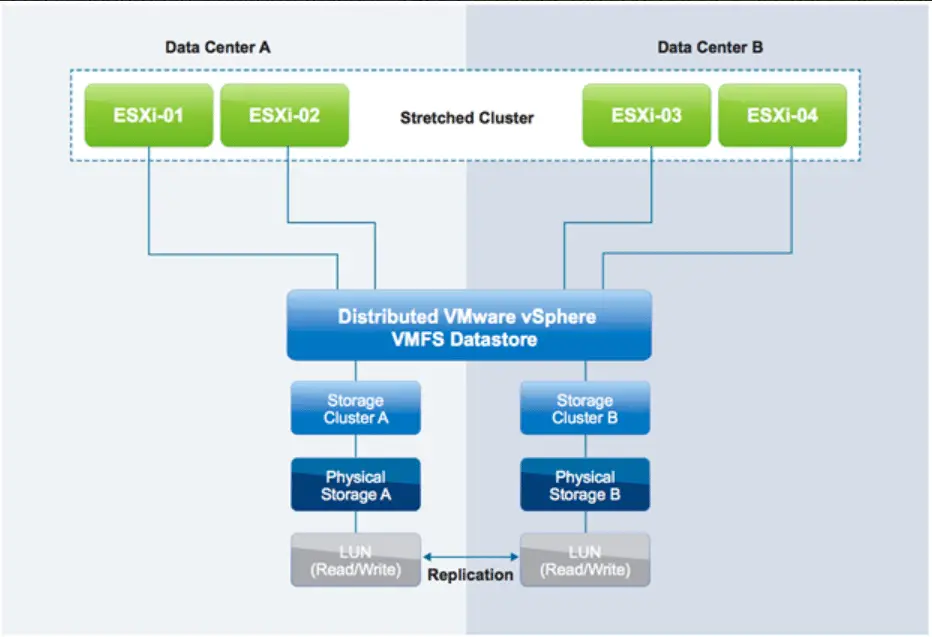 Further Reading
What's Dell EMC Unity XT Storage?
Found EMC Unity Bug on STOR2RRD 2.70
How to Find EMC Unity FC Port WWN
How to Remove Unwanted Initiators in EMC Unity
External Links
delltechnologies.com/asset/nl-be/products/storage/briefs-summaries/h18595-powerstore-metro-node-sb.pdf
h18593-metro-node-ss.pdf (delltechnologies.com)
Dell Unity XT Metro Node Solution Overview (delltechnologies.com)