Try Popular Linux Distributions Online
Linux is one of most poplar operating systems for desktop, server, virtualization and any other purposes (That was also the most prolific terms that you have read! 😀 But who can oppose? Regarding to test new versions of Linux distribution or new distributions, needs to have enough resources and time to download and install.
I'm one of these guys, want to test new things! But don't have enough time for installing, configuring and … .
DistroTest.net (Try Popular Linux Distributions Online)
What's DistroTest.net? First of all, I like the line under the banner: "Test it before you hate it".

DistroTest.net provides a way to testing more than 200 Linux distribution via web browser. Here is the welcome message on website:
Welcome to DistroTest.net
On our website you will find many operating systems,
which you can test directly online without a installation.
There are no restrictions for the operating system:
You can use all functions of the system,
Uninstall and install software, test installed programs and
even delete or format the hard disk or system files…
There is a simple menu to navigating users to find Linux distributions, any distribution has own web page which server specifications explained with details:
Start Testing Distributions Online
Click on "System Start" and then BOOM! Your server is ready under 1 minute. After the process has finished, you have access to test system via VNC client and test system is yours for 30 minutes!
Also, there is file uploader, it allows to upload files up to 10MB.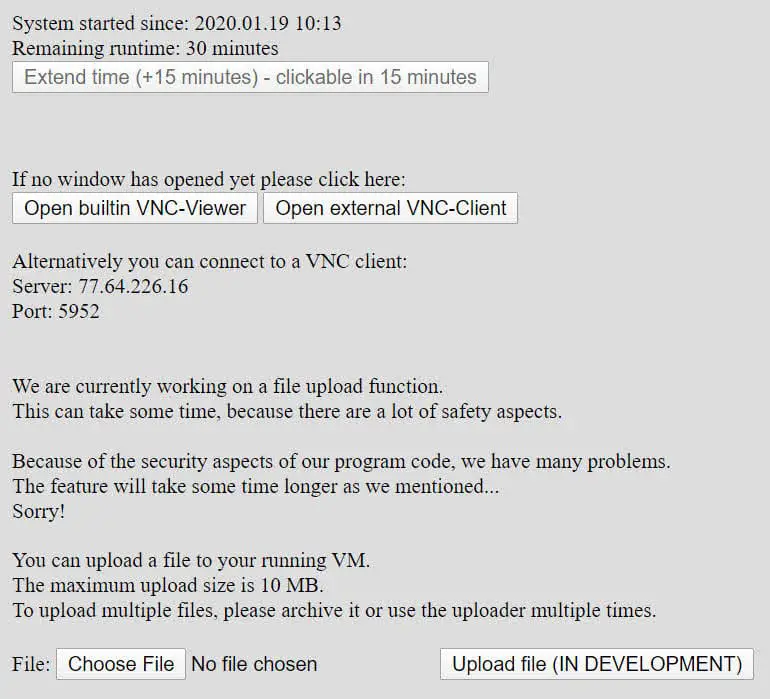 Use the builtin VNC-Viewer or VNC Client to access to the operating system:
Read about their goals on the below link:
Conclusion
DistroTest.net provides best way to testing Linux distributions online before installing on production server or your laptop/desktop. May be you can not test advanced functionalities but that is very useful for knowing new distributions or the distributions which you hadn't any experiences about them.