[Review]: Dell EMC RecoverPoint for Virtual Machines
Introduction to Dell EMC RecoverPoint for VMs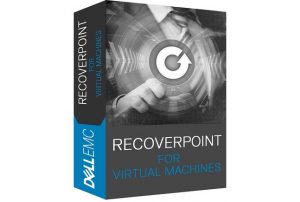 RecoverPoint for VMs is a virtualized solution that provides data replication, protection, and recovery within the VMware vSphere environment.
Enable quick recovery of VMware virtual machines to any point in time. Dell EMC RecoverPoint for Virtual Machines provides continuous data protection (CDP) for operational recovery and disaster recovery. You'll manage your VM protection simply and efficiently.
vAdmins and enterprise application owners can set and manage their VM data protection through a plug-in to VMware vCenter. Automated provisioning and DR orchestration make it easier to meet your recovery point objectives (RPOs) and recovery time objectives (RTOs).
RecoverPoint for Virtual Machines is hypervisor-based, software-only data replication that integrates with VMware vCenter (customer supplied).
Key features:
Protect VMware virtual machines with granular recovery to the VM level
Use orchestration to enable test, failover, and failback to any point in time
Replicate VMs (VMDK and RDM) locally and remotely
Support replication policies over any distance: synchronous, asynchronous, or dynamic
Use consistency groups for fast, application-consistent recovery of VMs
Optimize WAN bandwidth use with data compression and deduplication
Support any storage array on the VMware hardware compatibility list (HCL)
Manage data protection using the familiar vSphere Web Client user interface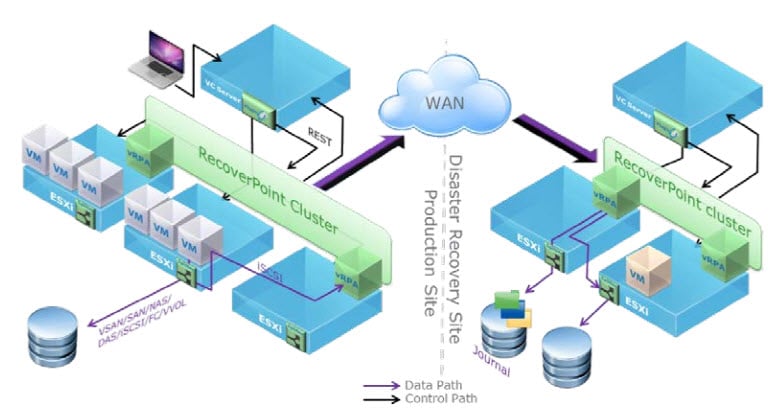 Architecture of Dell EMC RecoverPoint for VMs
RecoverPoint for Virtual Machines delivers benefits including:
Enables Continuous Data Protection for any Point-in-Time recovery to optimize RPO and RTO
Ensures recovery consistency for interdependent applications
Provides synchronous (sync) or asynchronous (async) replication policies
Reduces WAN bandwidth consumption and utilize available bandwidth optimally
Offers multi-site support with up to 4:1 fan-in for centralized DR site protecting multiple branch offices and 1:4 fan-out replication for development and test operations
Supports vSphere environments, vSphere 5.5, U2, 6.0, 6.5 and later releases as well as VSAN 5.5, 6.0, 6.1, 6.5 and Virtual Volumes.
Recover to Any Point in Time (PiT)
RecoverPoint for Virtual Machines uses a journal-based implementation to hold the PiT information of all changes made to the protected data. Providing the shortest recovery time to the latest PiT via journal technology that delivers "DVR like" roll back in time capability, providing short RPO to any selected PiT enabling recovery to just seconds before data corruption occurred, reversing the error.
Point-In-Time recovery using VMware vSphere APIs for I/O Filtering (VAIO), EMC and other vendors implement our PiT solutions based on VMware VAIO.
Zerto is another vendor that implemented their solution but Veeam (Most popular) has no solution yet and it will be available on Veeam Backup & Replication 10 as Veeam CDP.
Altaro has CDP from version 7.6 but it's available just for Hyper-V.
Recover With Consistency
With RecoverPoint technology, data is protected by Consistency Group (CG), preserving relational dependencies during recovery such as those of a database and a database log. The CG depends on the use of journal volumes which hold all the historical changes in order to preserve write order fidelity. Furthermore, the CG Sets feature enables recovery activities to be performed to the same consistent PiT across all data in the CG set simultaneously. RecoverPoint for Virtual Machines is designed to ensure recovery consistency for one application or inter-dependent applications with the CG and Group sets options.
Replicate With WAN Efficiency And Resiliency
RecoverPoint for Virtual Machines delivers remote data replication over WAN, sync or async, at lower costs. Its built-in WAN optimization consists of compression and advanced bandwidth reduction algorithms that reduce WAN bandwidth consumption up to 90%. WAN optimization also ensures replication robustness with an improved resiliency that sustains 50% longer Round Trip Time (RTT) and higher packet loss to fully utilize the available bandwidth.
RecoverPoint For Virtual Machines: Simple, Efficient & Proven
Architecturally, RecoverPoint for VMs consists of a VMware vCenter plug-in, a RecoverPoint write-splitter embedded in vSphere hypervisor, and a virtual appliance, all comprehensively integrated in the VMware ESXi server environment. RecoverPoint for VMs protects VMs with VM level granularity and replicates VMs (VMDK and RDM) accessed by any type of storage connectivity supported by VMware.
With built-in orchestration and automation capabilities fully integrated with VMware vCenter via a plug-in, RecoverPoint for Virtual Machines empowers vAdministrators with the visibility and control to protect single or multiple VMs locally or remotely to the target site. vAdministrators can perform automated discovery, provisioning and orchestration for DR test, failover and failback to any PiT, all from the vCenter Web Client GUI. It also supports advanced orchestration such as VM power-up sequencing, automatic Re-IP, pre-defined failover networks and inclusion of scripts and user messages as part of the boot up order. With CG and Group sets, vAdministrators can perform recovery to a selected PiT with consistency across interdependent applications that span across VMware ESX clusters.
For example, businesses can take full advantage of this powerful feature to properly restore the operation of an end-to-end business transaction process that includes a sales order system, payment transactions, inventory management and supply chain management, all deployed in VMs.
Integrates With EMC Storage Analytics
EMC RecoverPoint for Virtual Machines integrates with EMC Storage Analytics (ESA), enabling quick deployment with analytic visibility of the RecoverPoint for Virtual Machines infrastructure within VMware vRealize Operations Manager. Dashboards, heat maps, and other visual tools are made available for actionable capacity and performance analysis.
Key components of the RecoverPoint for VMs
vRPA: The virtual RecoverPoint Appliance is a data appliance that manages data replication. You will create the vRPAs you need by using the vSphere Web Client from the vCenter Server.
vRPA cluster: A group of up to 8 vRPAs that work together to replicate and protect data. You will create the vRPA clusters and connect them to the system by using the RecoverPoint for VMs Deployer wizards.
RecoverPoint for VMs plug-in: The vSphere Web Client user interface for managing VM replication. Automatically installed after you create the vRPA cluster.
RecoverPoint for VMs splitter: Proprietary software installed on every ESXi host in an ESXi cluster involved in RecoverPoint replication or running virtual RPAs. Splits every write to the VMDK and sends a copy of the write to the vRPA and then to the designated storage volumes. Automatically installed after you register the ESXi cluster.
RecoverPoint for VMs system: One or more connected vRPA clusters.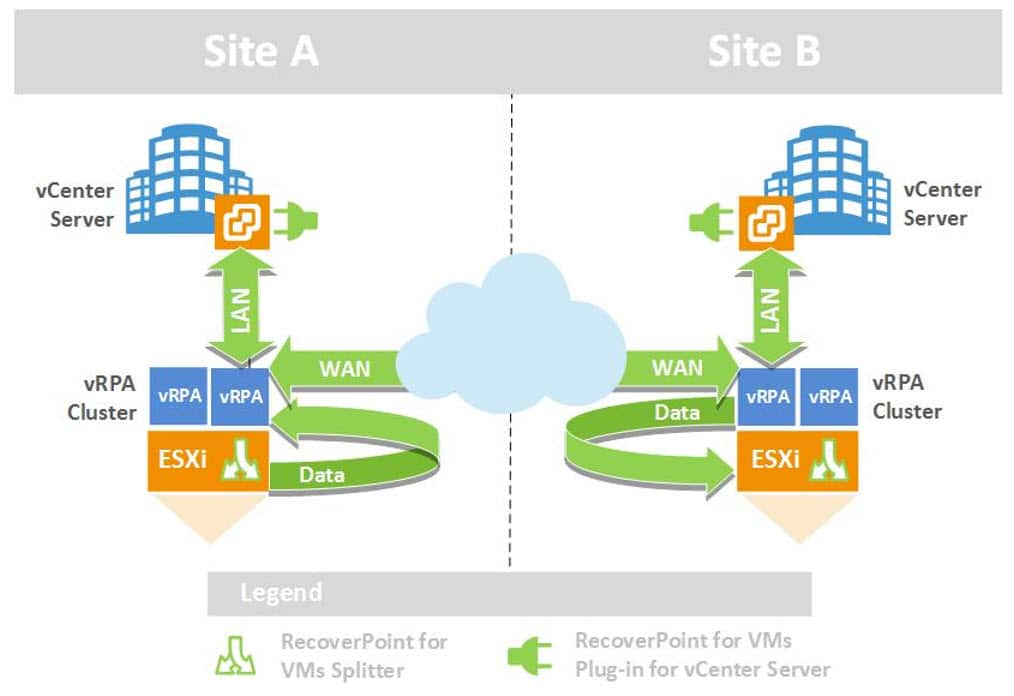 RecoverPoint Sizing Guide
Required vRPAs is depended to virtual machines write I/O, the below table is an example for sizing vRPAs:

Also Journal disks sizing example is in below:
More on Teimouri.Net