Oracle Secure Global Desktop 5.5 for Secure Remote Access to Data and Applications in the Cloud and On Premises
Oracle Secure Global Desktop (SGD) is a web-based solution that allows users to remotely access data and applications in a data center or the cloud. It provides administrators with a single pane of glass to manage secure access to resources with a completely air-gapped, highly secure connection between the client and the data and applications accessed, allowing complete control of which user can access which application and the server it runs on, all through a convenient web interface.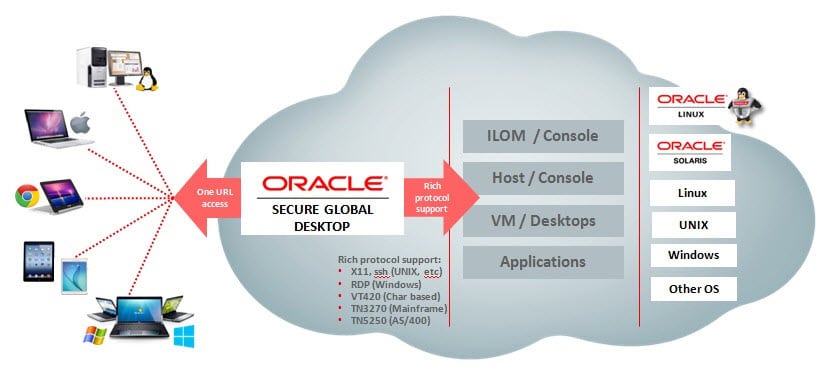 What Is New With SGD 5.5
SGD 5.5 has been developed with performance and modularity in mind. In order to accomplish this, we re-architected the installation process and integrated with the Oracle Linux yum repository ecosystem, which has resulted in smaller packages and much quicker installation time. This release lays the foundation for the streamlined delivery of fixes and features.
Key features of SGD 5.5:
Smaller footprint and better performance – Compatibility libraries are no longer required and all packages use 64-bit OS libraries, resulting in better performance.
Decreased time to install, start, and stop – The new modular architecture significantly decreases the time it takes to install SGD, bringing it down to under 60 seconds.  It is now 4 times faster to start or stop the SGD service, thus requiring much shorter maintenance windows.
Ksplice zero-downtime patching – Previously, SGD provided its own version of openssl. With this release, SGD now uses the version provided by Oracle Linux, which allows system, kernel, and user space libraries to be patched using Oracle Ksplice patching technology, without requiring a reboot. 
Simplified deployment without the need for DNS – You can now set up SGD in environments without DNS (for example, Oracle VM VirtualBox or Oracle Cloud Infrastructure, Virtual Cloud Network without DNS). This greatly simplifies the deployment of test and production environments.
Easy update using yum – Patching takes advantage of yum updates. The new update feature provides the ability to defer SGD restarts, which can help simplify the maintenance of complex deployments. New features can also be easily rolled out.
Customizable installation – You can decide which components to install and what downloads to list on the SGD landing page. The SGD components all come in individual rpm packages and only show up on the SGD home page when installed.
Further Reading
What's SDS (Software-Defined Storage) – Part 1
External Links
Oracle Secure Global Desktop Documentation
Blog: Oracle Secure Global Desktop instance using the Oracle Cloud Marketplace
Blog: Security Challenges when moving into the Cloud
Blog: Click to Launch Images by Using the Marketplace in Oracle Cloud Infrastructure