Vembu BDR Suite 3.7.0 – Review
What's Vembu BDR Suite?
Today, data protection and service protection are two important concepts in IT environments. Any company needs tools to protect its data and its business. Also in addition of data protection, companies need to tools to keep their services up always with near zero down time or zero down time. Vembu BDR Suite provides complete, hassle-free, universal Backup and Disaster Recovery (DR) solution for all physical and virtual environments. It features host level backups of VMware and Hyper-V. Vembu BDR Suite also allows granular recovery of files, folders and applications.
Vembu BDR Suite – Editions
Vembu offers two editions of Vembu BDR Suite:
Paid Edition
Free Edition
Free Forever!
The Free Edition of Vembu BDR suite of products contains the mandate features which ensures data protection for both the physical and virtual data center environments. If the organisation is not having any specific backup policy requirement for business continuity and data management environment features like, near continuous data protection with CBT (changed block tracking) incremental backup, VM replication with automated Failover and Failback process, stand-by virtual DR (Quick VM recovery) and Offsite DR, then they can opt for the free edition of Vembu BDR Suite.


It doesn't matter that you want to install and use Vembu BDR Suite as paid edition or free edition. There is single installer and if you want to use advanced features, you can buy and install license otherwise you can use free edition after evaluation period.
You can find more information about free and paid editions and compare two editions on this page:
Vembu BDR Suite Pricing
To buy license and use paid features, check the pricing on this page.
Vembu BDR Suite – Components
Vembu BDR Suite has five main components, we'll review the components in general view:
Vembu Backup

Vembu VMBackup is a backup and disaster recovery solution for the virtualized data centres. It supports both the VMware vSphere and Microsoft Hyper-V environments.
Vembu VMBackup key features are as follows:
Agentless VMware Image Backup and Replication
Host Level Hyper-V Image Backup
Application aware image processing
Vembu Image Backup

Vembu ImageBackup is a disk image based backup and bare-metal recovery software for the Windows Physical Servers, Desktops and Laptops.
Vembu ImageBackup offers the below main features to keep safe data in physical environments:
Image based Physical Server Backup
Free Image based backup for Desktops and Laptops
Changed Block Tracking
Vembu NetworkBackup

Vembu NetworkBackup is a backup software for the SMBs who would like a Hybrid backup solution (On-Premise with optional cloud storage) for their desktops/laptops, file servers, applications like Microsoft Exchange, SQL Server, Sharepoint, Active Directory and Outlook etc.
Endpoint backup for Windows, Mac & Linux
Offsite Backup deployment support for Remote Office & Branch Offices
Centralized Monitoring and Management
Vembu SaaSBackup

Vembu SaaSBackup is a backup and recovery software for SaaS applications like Microsoft Office365 and Google Apps.
Backup user's e-mails, calendar, contacts and documents
Search the user data or e-mail from Vembu Customer Portal
Restore the user data or e-mail to same user or different user account
End to end Encryption
Vembu OnlineBackup

Vembu OnlineBackup is a Cloud Backup Solution for the SMBs who would like to backup their Files and applications like Microsoft Exchange, SQL Server, Sharepoint, Active Directory, Outlook and MySQL directly to Vembu Cloud.
Restore data Anytime and Anywhere
AES 256 bit Encryption
Where It Left Off
I'll publish a post about each component in the future. Please follow me and read the next posts.
System Requirements
Vembu BDR Suite components needs the below requirements:
Supported OS:
Microsoft Windows Server 2016
Microsoft Windows Server 2012 R2
Microsoft Windows Server 2012
Microsoft Windows Server 2008 R2
Ubuntu 16.04 LTS
Ubuntu 14.0.4 LTS
Ubuntu 12.04 LTS
Architecture: 64 bit only
Memory:
Minimum: 8 GB
Recommended: 16 GB
CPU:
Minimum: Quad Core Xeon Processor
Recommended: Octa Core Dual Processor
Meta Data Storage: 10% of the planned total backup data size
Network Card: 1Gbps and above
Browser: IE11, Firefox 28 and above, Chrome 34 and above
Vembu BDR OffsiteDRServer:
Requirements are same as Vembu BDR Backup Server
Supported Virtualization Platforms
Vembu BDR Suite supporting both VMware vSphere and Microsoft Hyper-V.
So if there is mixed virtual environment, administrators can take backup from virtual machines by single backup and disaster recovery suite.
Vembu BDR Suite supporting:
VMware vSphere 4.x
VMware vSphere 5.x
VMware vSphere 6.0
Microsoft Hyper-V 2016
Microsoft Hyper-V 2012 R2
Microsoft Hyper-V 2012
Microsoft Hyper-V 2008 R2
Disk Image Backup
The below OSes are supported in physical environment:
 Microsoft Windows Server 2016
 Microsoft Windows Server 2012 R2
 Microsoft Windows Server 2012
 Microsoft Windows Server 2008 R2
 Microsoft Windows Server 2008
 Microsoft Windows Server 2003 R2 SP2
 Microsoft Windows Server 2003 SP2
Microsoft Windows 10
Microsoft Windows 8
Microsoft Windows 7
Microsoft Windows Vista
Microsoft Windows XP SP2
Also the below computing resources need for run ImageBackup server:
Memory:
Minimum: 2 GB
Recommended: 4 GB
CPU:
Browser: IE11, Firefox 28 and above, Chrome 34 and above
Please read Vembu BDR release note for more information.
Download Installer
Vembu BDR Suite is available for download as Windows installer file on the below link:
Vembu BDR Suite is also available as virtual appliance and Linux installer but access to them needs to contact with Vembu sales.
Installing Vembu BDR Suite
Vembu BDR Suite 3.7.0 is latest version of backup and disaster recovery which released by Vembu.
After downloading installer, configure a virtual machine or physical machine according to its requirements and make it ready for installation.
Please read this post and find the best practices about preparing and deploying backup solutions for virtual environments:
Pre-Installation
Vembu BDR Suite need to open some ports on firewall, if firewall is configured, the below port should open before installation:
Backup Port: 32004
GUI Port: 6061
Remote Repository: 6060 (Optional)
There is two options for backup repository storage:
Local
Remote (CIFS and NFS)
So if remote repository has been choose, port 6060 must open on firewall.
About network bandwidth, using more than one 1Gb or 10Gb or faster link is recommended.
You can read more about deployment method and transfer methods in next posts.
Installation
Installation process is so simple, just run the installer and follow the below instruction.
Run the installer and click on the next button: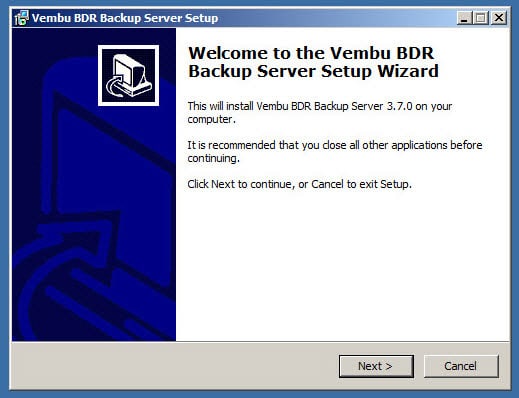 Accept the license agreement: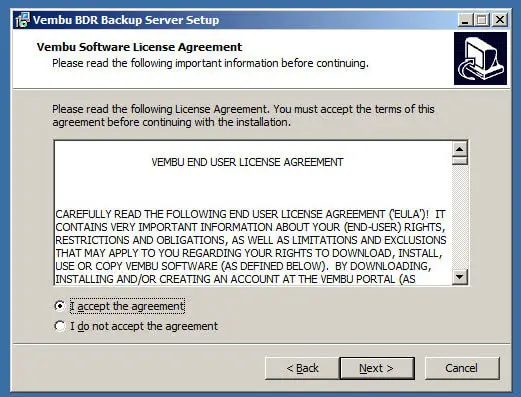 Now, there is two options:
Choosing default configuration
Customizing the configuration
Check "Let me customize the configurations" to customize some configurations such as installation directories, service port, admin user password and other configuration.
If you don't know, what is the process to allow or block ports in firewall, don't change service ports.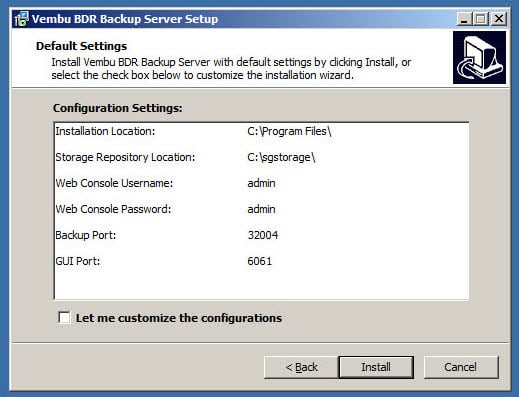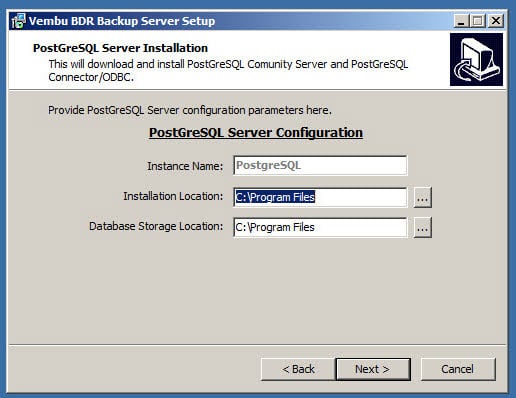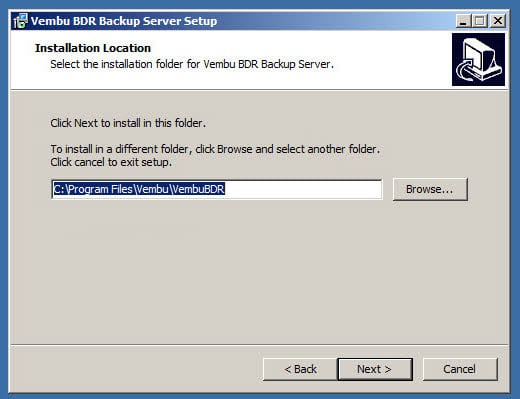 About backup repository, I have mentioned that there is two options, local or remote.
At this step, you must choose location of backup repository: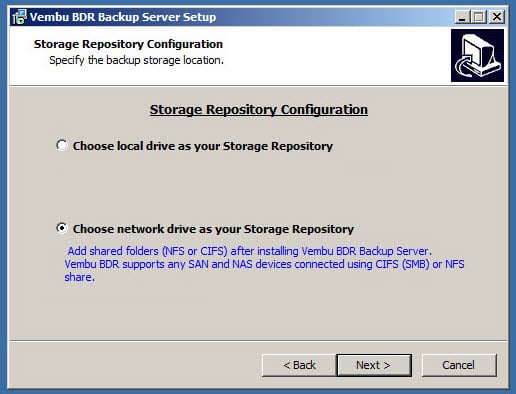 Local drive is better choice, when you want to install BDR Suite for your lab but use remote storage repository for production. I'll review Storage Repository types at next posts.
 You can customize web server port and change default username and password at this step: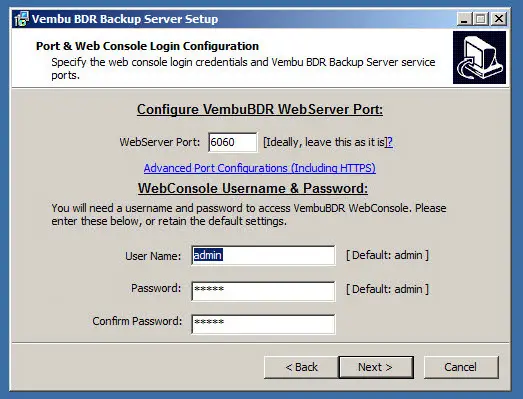 It's done!
Just click "Next" and then click "Install" on the next window and drink a coffee not more! Then your backup infra is ready to take backup from both virtual and physical machines.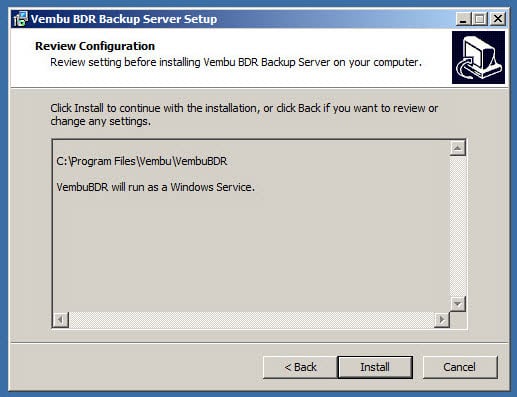 During installation, the installer will install some prerequisites such as "Microsoft Visual C++ Runtime" and others.
So don't install Vembu BDR Suite with other software, use a fresh and clean Windows machines.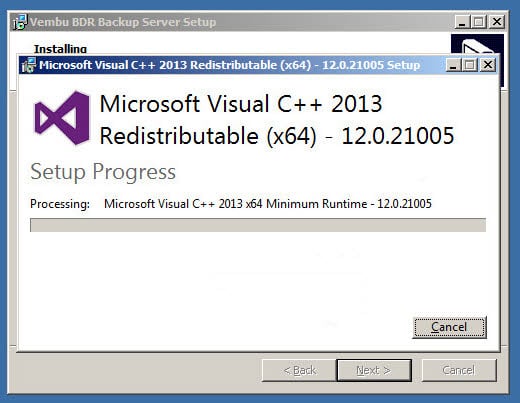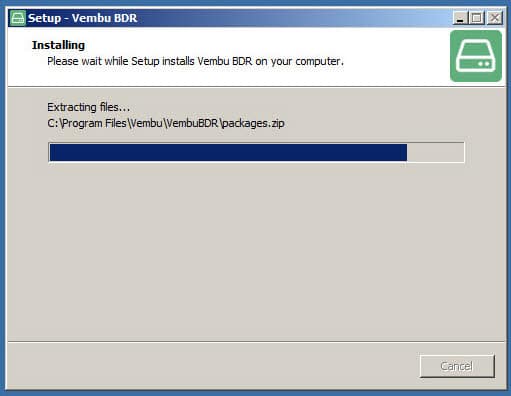 At final step, click on "Finish" and Vembu BDR Suite logon page will show: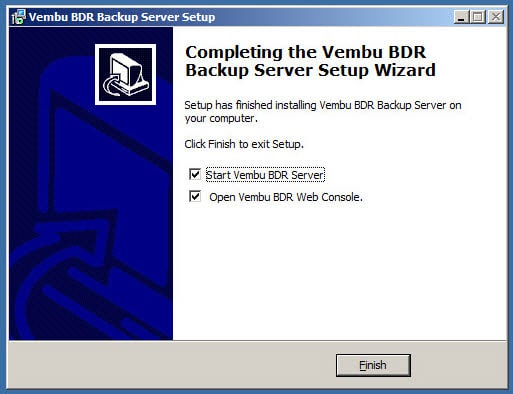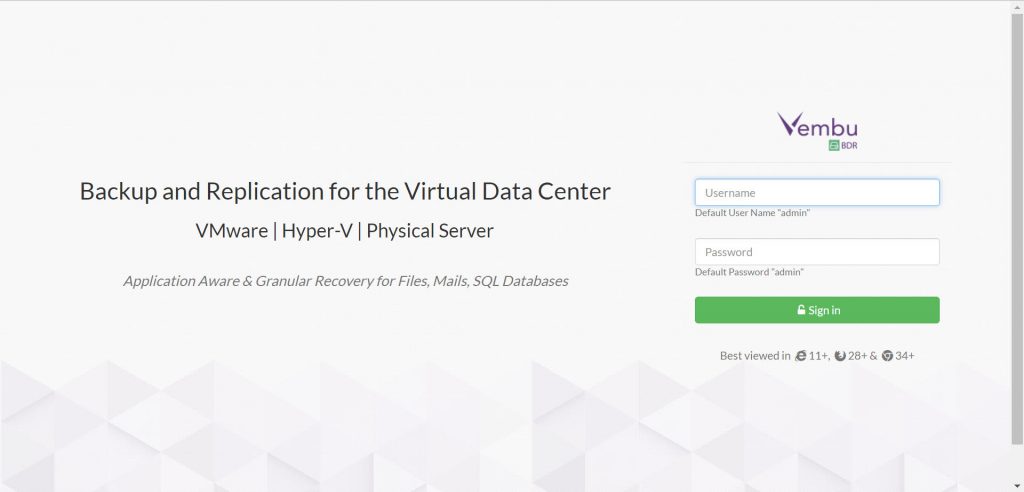 Post Installation
This post was first review of Vembu BDR Suite, Vembu BDR Suite configurations will be the next and we'll review post installation process in the next post.
Thank you for reading the post.