Stor2rrd 7.10 Released
This is the favorite software for storage monitoring, I'm using it as storage monitoring for large-scale of storage devices. Now, Stor2rrd 7.10 has been released with some new features.
What's New in Stor2rrd 7.10?
The below devices added to the long list of other devices that supporting by Stor2rrd for monitoring:
NetApp StorageGRID
HPE StoreOnce 4.x support
XorMon Support
XorMon is a merge of LPAR2RRD and STOR2RRD tools into one tool. That's awesome, you will have all monitoring at one place.
Enhancements in Stor2rrd 7.10
New Storage overview reports:

Provide you single report for capacity and performance overview of the storage system:

Capacity is reported per pool
Performance part have 3 predefined time ranges (last day/week/month) with crucial metrics IOPS / Data throughput / Latency

performance part have 3 predefined time ranges (last day/week/month) with crucial metrics IOPS / Data throughput / Latency
Hitachi VSP: brand new capacity monitoring (Total/Pool/Tier): raw, spare, snapshots, replication usage … compression, deduplication
Hitachi VSP: write pending cache per MPU and MPV CPUs
HPE 3PAR: support for copy services monitoring
HPE Primera: support for new models
IBM DS8k: support for newer firmware
Synology: implemented CPU – GPU utilization
Huawei OceanStor/Dorado: fixed a capacity issue
IBM Storwize/FlashSystem: CPU graphs per core
HPE MSA, Lenovo S/DS Series: Implemented thin volume support
Storage devices with ssh-key-based authentication can now be accessed with password-based authentication too
Total Capacity graphs with all storage devices in a time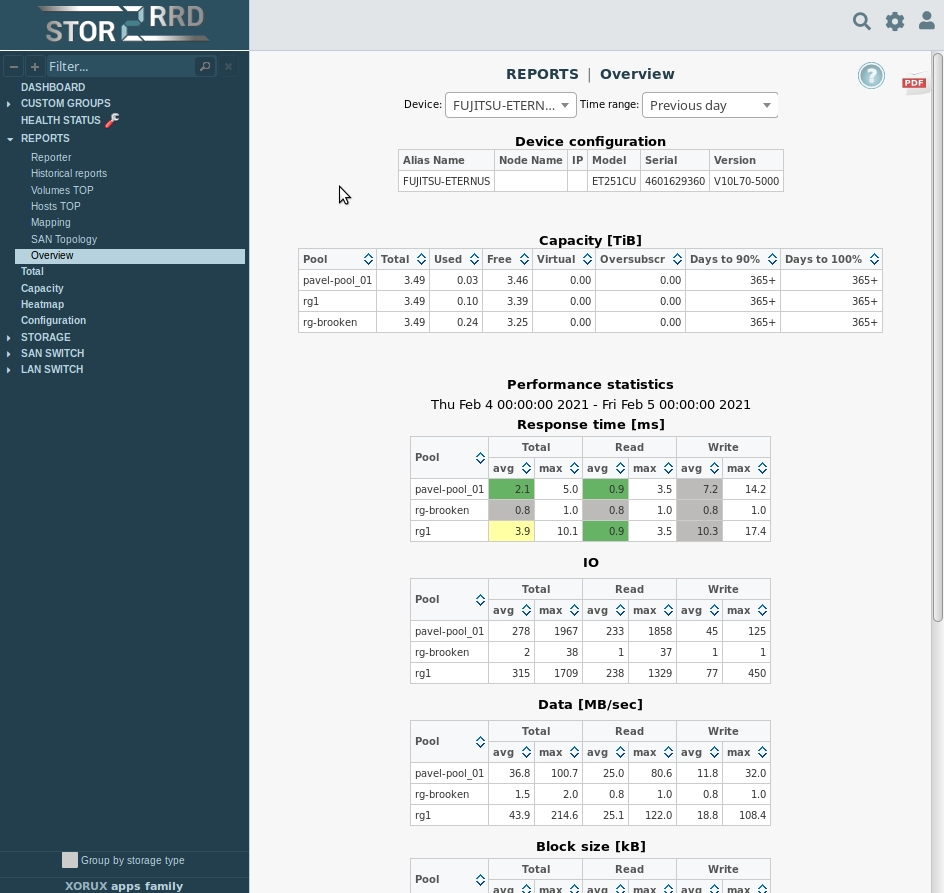 Download
You can download the tool via the below link:
See Also