[Review]: NAKIVO Backup & Replication v8.0
What's New in NAKIVO Backup & Replication v8.0
Nakivo has released new major version of its backup and replication suite with a key feature. Administrators be able to automates disaster recovery by new feature that called "Site Recovery".
Manual implementation of disaster recovery activites is time- and labor-intensive not to mention that identifying the problems in your infrastructure can be a slow process.
Site Recovery
NAKIVO Backup & Replication addresses this challenge with the advanced Site Recovery functionality, which enables you to achieve continuous delivery of IT services. By arranging actions and conditions into an automated algorithm, you can create Site Recovery jobs of any complexity that suit all your current needs, while retaining the ability to modify, test, or supplement your SR jobs at any time without disrupting the production environment:
Orchestrate disaster recovery across multiple sites
Automate disaster recovery activities for maximum efficiency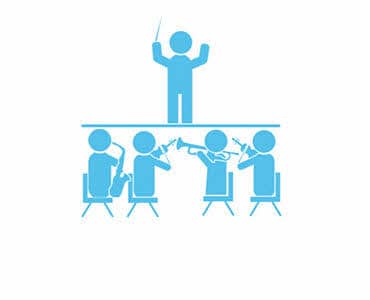 Site Recovery in NAKIVO Backup & Replication was built with maximum versatility and convenience in mind, requiring as little input on your part as possible. This is a flexible feature suited for multiple purposes, including disaster recovery, disaster avoidance, planned migration, etc.
The Site Recovery suite includes sets of actions and conditions that can be combined to create a Site Recovery job of any complexity. You can create a simple SR job to cater for a specific scenario (e.g., local power outage) as well as a complex one for comprehensive disaster recovery orchestration. Likewise, each of these jobs can be fully automated, requiring minimal input on your part, or manual, which allows for more granular control over all your disaster recovery activities.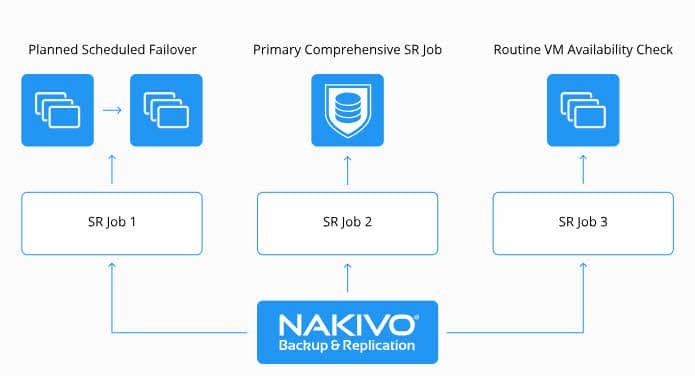 However, the feature is well-developed and versatile, bringing numerous benefits to your DR tool kit:
Orchestrate and automate disaster recoveryWith NAKIVO Backup & Replication, you don't need to manually monitor your system for possible problems. The product can periodically check the state of your VMs and notify you whether some of your VMs are unreachable. You can then run your main comprehensive SR job with a few clicks if necessary.
Create multiple SR jobsUse different SR jobs for different purposes, such as disaster avoidance or planned migration of your data centers. Use multi-site SR jobs for planned migrations or create a primary Site Recovery job to minimize downtime and service disruption. The number of SR jobs created with the Site Recovery feature is unlimited; you can have a specific job in place for every type of unplanned event.
Test and update your existing SR jobsWith Site Recovery, you get a multi-functional solution suitable for both on-demand protection and scheduled testing. Every Site Recovery job you create can be tested without disrupting your production environment. Moreover, you can easily update any existing job and tailor the whole process to your specific needs.
Meet your recovery time objective (RTO)For every Site Recovery job, you can set an RTO and see if your target can be met. This can help you assess whether your planned disaster recovery operations and infrastructure meet your expectations in terms of the recovery speed as well as avoid unforeseen difficulties if an actual disaster strikes.
Decrease TCOThe Site Recovery feature significantly decreases your disaster recovery TCO (total cost of ownership) by letting you spend less time, effort, and investment on enhancing the resilience of your virtual infrastructure.
Site Recovery Job
Site Recovery Job is a special job that automates execution of one or multiple Site Recovery actions.
You can execute your Site Recovery Job on demand or on schedule.
Creating a Site Recovery Job is done with a wizard and includes the following steps:
Creating Site Recovery Job
Running Site Recovery Job
Read more about Site Recovery Job on Nakivo Help Center.
Fixes and Improvements NAKIVO Backup & Replication v8.0
In addition of new feature Nakivo Backup & Replication v8.0 contains the below improvements and fixes:
Improvements
Removing all events is allowed
Fixed Issues
Flash VM boot job checking free space for the target datastore
An "apt-get update" command executed before installing EC2 transporter
Full recovery point copied as incremental leaving no fulls at the target
Auto-creating network mapping was fixed for replication jobs
Several documentation issues fixed
More on Teimouri.Net
Nakivo VM Backup Appliance – QNAP
Veeam Backup & Replication – Re-IP Rule on Linux VM
[Review]: NAKIVO Backup & Replication v7.5
[Review]: Veeam Backup & Replication 9.5 Update 3a
[Review]: NAKIVO Backup & Replication v7.2