Kali Linux is one of most popular Linux distributions and many security experts are using this distribution as penetration testing system. Kali Linux is a Debian based distribution and most Kali's packages are imported from Debian repositories.
Kali has more than 300 preinstalled tools for penetration testing such as Armitage (a graphical cyber attack management tool), nmap (a port scanner), Wireshark (a packet analyzer), John the Ripper password cracker, Aircrack-ng (a software suite for penetration-testing wireless LANs), Burp suite and OWASP ZAP web application security scanners.
Kali development team has released new version and it's available for download.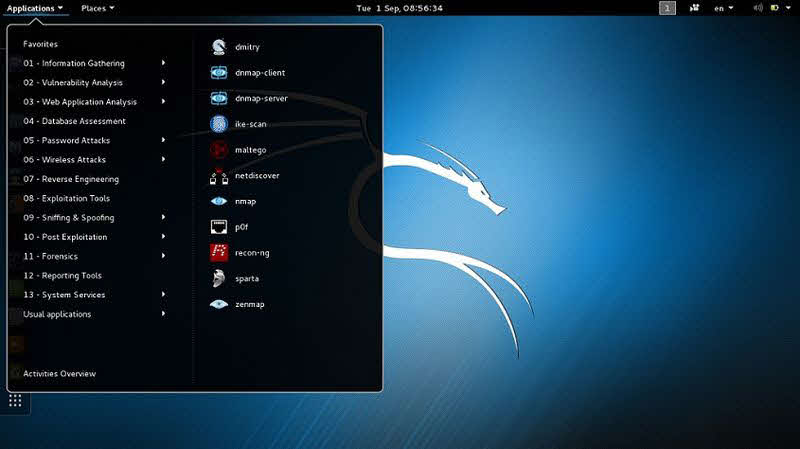 Kali Linux is available for both 32-bit and 64-bit platforms and also the team focus on ARM devices and also there is an image for ARM architecture.
Also Kali Linux NetHunter is also available for smartphones such as the Nexus 5, Nexus 6, Nexus 7, Nexus 9, Nexus 10, OnePlus One, and some Samsung Galaxy models.
Kali Linux hardware requirements:
A minimum of 20 GB disk space for the Kali Linux install.
RAM for i386 and amd64 architectures, minimum: 1GB, recommended: 2GB or more.
CD-DVD Drive / USB boot support
Kali Linux will be installed on some Apple devices such as Apple MacBook Air, Pro, and Retina models.
Also it will be installed on virtual platforms such as VMware Workstation and Oracle VirtualBox
Read more information on Kali Linux documentation.
4,155 total views, 2 views today
Davoud Teimouri is as a professional blogger, vExpert 2015/2016/2017/2018, VCA, MCITP. This blog is started with simple posts and now, it has large following readers.