Nakivo Backup Replication 6.x – Flash VM Boot
Introduction
Flash VM Boot is one of Nakivo Backup Replication features and one of favorite features for most administrators because they can recover the latest state of virtual machine very fast and easily.
You can reduce your down time when your machine is infected by ransomware or virus or your virtual machine files has been corrupted by unsuccessful update.
How It Works?
Flash VM Boot can create a machine (Recovered machine) from original machine's backup restore points (Anyone you want) and turn it to an active virtual machine immediately.
Nakivo Backup Replication will attach snapshot disks to recovered machine directly.
Now, we'll review the process.
Create Job
You need to have valid backup from your virtual machine before making Flash VM Boot job.
Then you can create the job easily.
Click on "Recover" and choose "Flash VM Boot":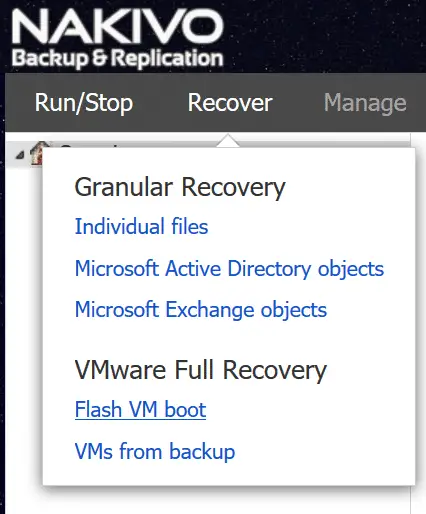 After that, you will see "New Flash Boot Job Wizard". You need to select your VM from backup jobs or repository list: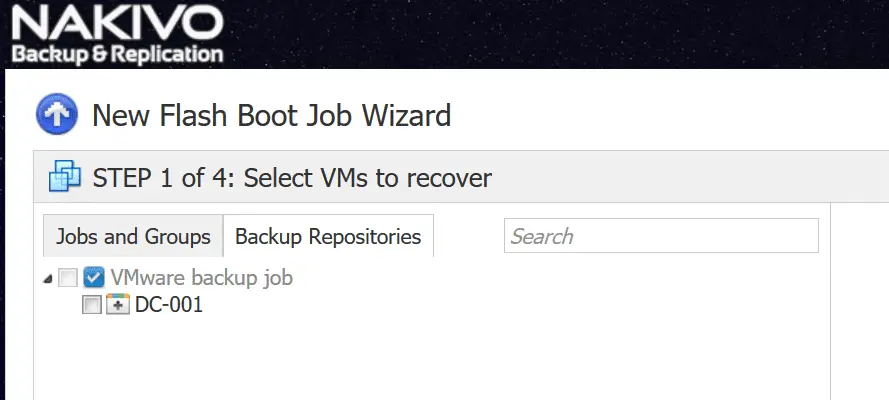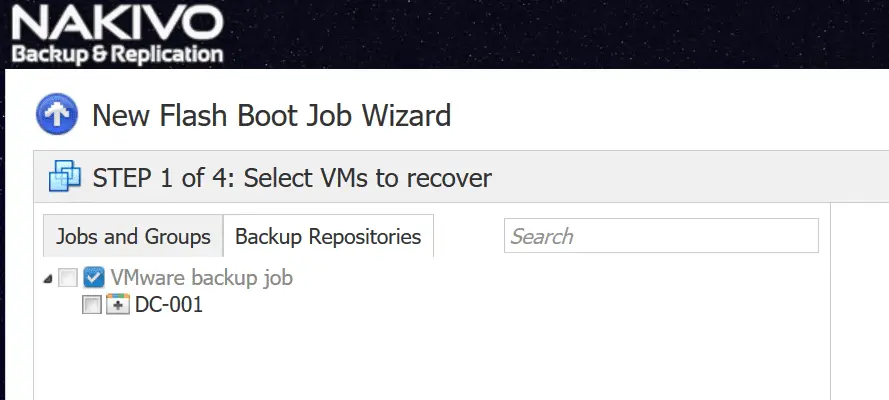 Last recovery point will be selected by default but you can choose different recovery points at this step:
Click "Next" to move to the next step.
"Specify VM Location", you should choose host or cluster, datastore and network for recovered VM, click on "Advanced" to see more options: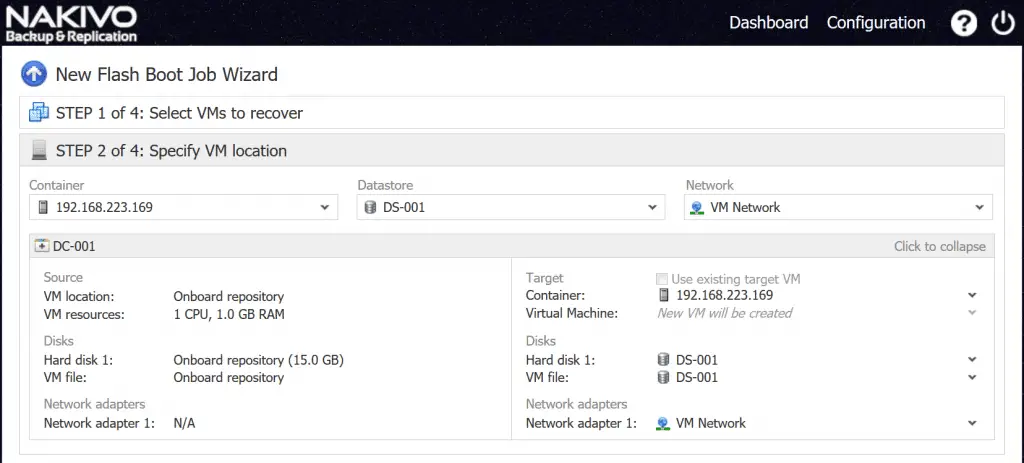 Then click "Next" and go to next step.
You can run Flash Boot job on demand or schedule it for another time: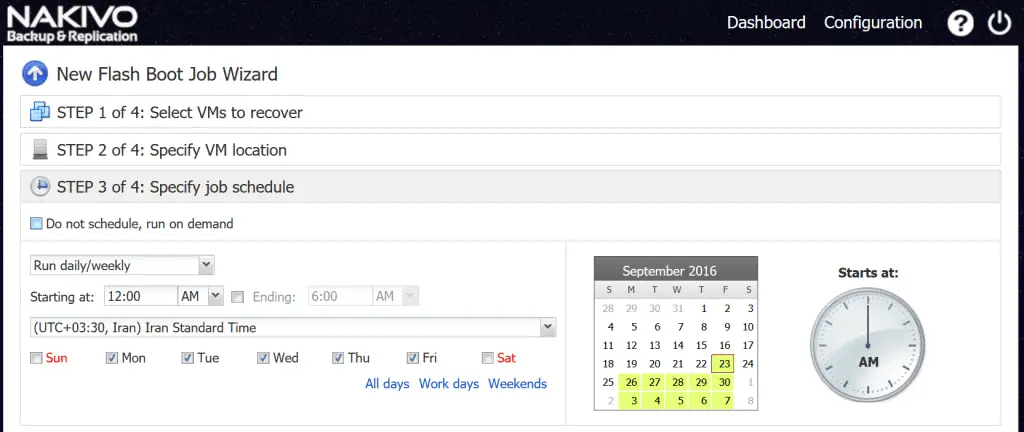 Now, specify job options: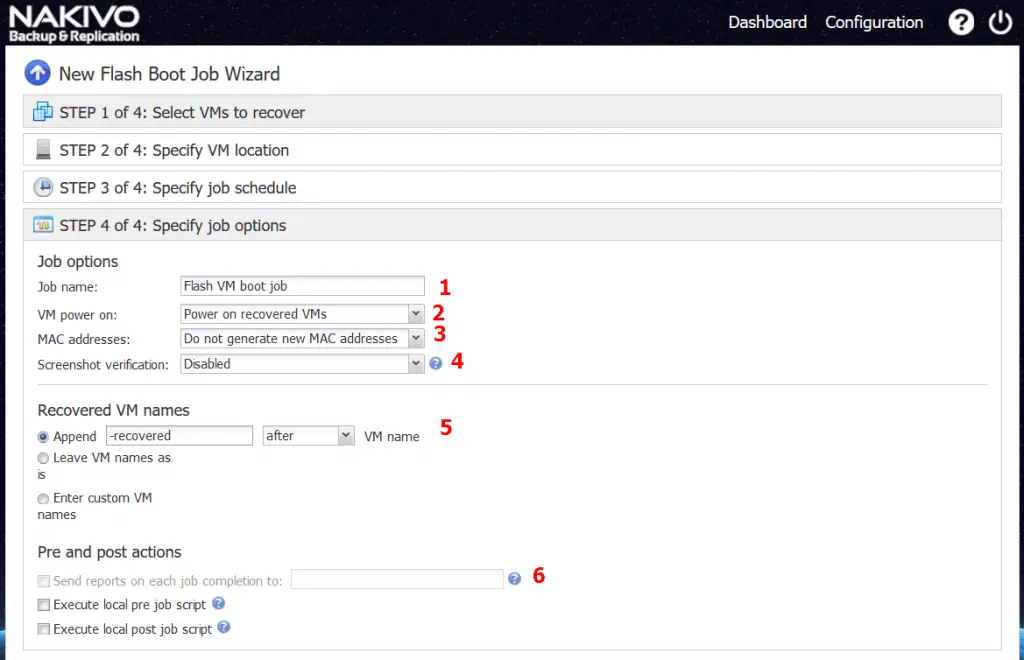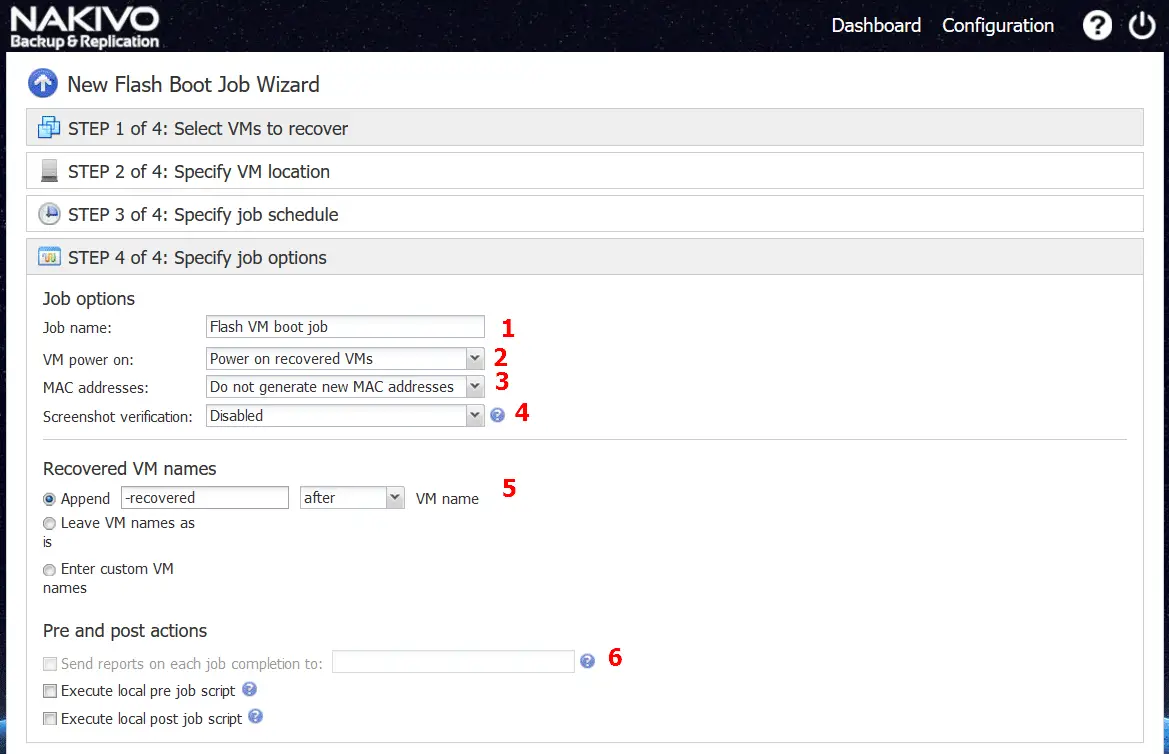 There is some options about the job:
Job name: You can choose any name for the job.
VM power on: You can choose that the VM will power on or not after recovery.
MAC addresses: Nakivo can create the recovered VM with same MAC address or generate new MAC address for the recovered VM.
Screenshot verification: I explained that in this post:
Recovered VM names: You can choose recovered VM name with a pattern or choose custom name or leave the recovered name same as original VM name.
Pre and post actions: Nakivo can send notification when job is done or run script before run the job and after job done.
After specifying the option click on "Finish" or "Finish & Run" and you will be moved to main page.
Recovered VM will be created in 30 seconds or less and according to your settings, it will be powered on or not.
Let's see, what was happened on vSphere:
You can see that there is rescan HBA!
What was that?
Nakivo attach snapshot disk as RDM (Virtual Compatibility) to recovered machine during creation and configuration. You can check it in recovered VM settings:
If you choose assigning new MAC to recovered VM during job setup, you can power on original VM as well.
But it's not recommended.
What Now?
Now, you have two options:
Discard: When you discard booted VMs, NAKIVO Backup & Replication stops and deletes VMs that were created when you run the Flash VM Boot job. All changes that have occurred to the booted VMs are discarded.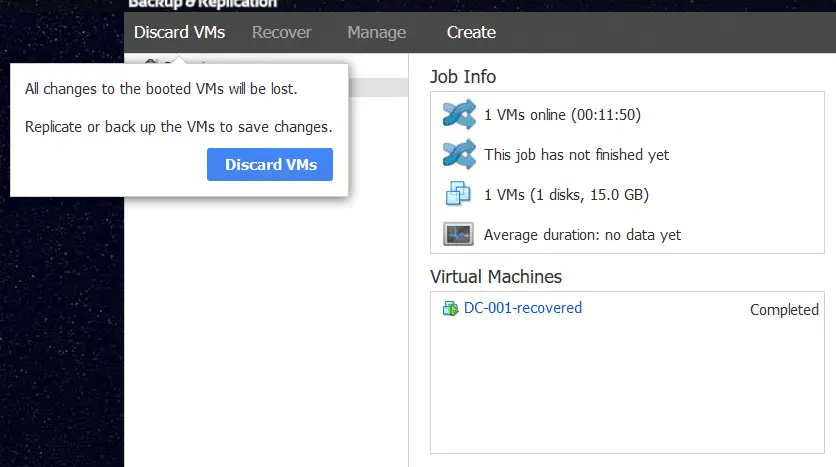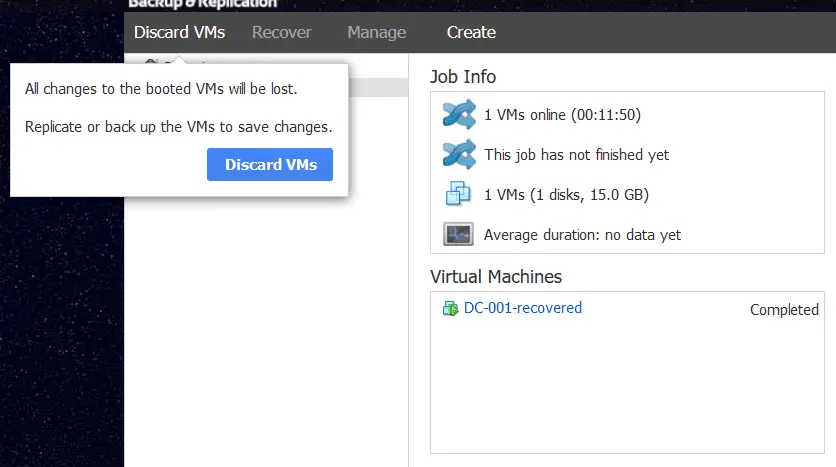 To permanently recover VMs created by Flash VM Boot, do either of the following:

Migrate the booted VMs using VMware vSphere's Storage vMotion (make sure to set the option to convert the RDM disks to VMDKs).
NOTE: Once you migrated the booted VMs, you can click the Discard VMs button in the Flash VM Boot job. The job will detect that the VMs were migrated and will not discard them.
Replicate booted VMs as described below:

Refresh the Inventory in Configuration (so that the VMs created by Flash VM Boot are added to the product).
Create a new replication job for the VMs that you want to permanently recover.
Run the replication job.
After the replication has finished, run the job once again. This is required because the recovered VMs were running (and obtaining some changes) while the initial replication was in progress.
To ensure zero data loss, power off the VMs created by Flash VM Boot in VMware vSphere client, and run the VM replication job one last time.
Discard the VMs created by Flash VM Boot.
Power on the VMs created by the replication job.