Nakivo Backup & Replication 6.1
Nakivo has released Backup & Replication 6.1, the new version has new cool features.
Please join me to review the new features, improvements and also upgrade process.
What's new?
Instant Object Recovery for Microsoft Exchange 2016/2013: NAKIVO Backup & Replication v6.1 Beta enables browsing, searching, and recovering Microsoft Exchange 2016 and 2013 objects, such as emails, directly from compressed and deduplicated VMware VM backups, without the need to restore the entire VM first. This feature is purely agentless, works right out of the box, and does not require creating a special lab or running a special backup type.
Log Truncation for Microsoft Exchange 2016/2013: Microsoft Exchange Server database transaction logs record all changes to an Exchange Server database. Over time, these log files accumulate and can consume all of the available disk space, if not periodically removed. NAKIVO Backup & Replication v6.1 Beta provides an option to truncate logs of Microsoft Exchange 2016 and 2013 after a successful backup.
Hot Add: The new Hot Add feature enables writing VM data directly from/to the VM datastore, bypassing the network. NAKIVO Backup & Replication v6.1 Beta automatically uses Hot Add in order to offload production LAN from the data protection traffic and to increase the data transfer speed.
Job Chaining: NAKIVO Backup & Replication v6.1 Beta extends the job scheduling functionality by introducing job chaining. With this feature, a job can finish its tasks and then trigger another job in a chain. This way, for example, it's easy to set up a chain where a VM backup job saves data locally, and then triggers a Backup Copy job that sends backup copies to Amazon cloud.
My favorite features are Hot Add and Job Chaining. I think, we will see more new features and improvements in next releases.
Upgrade Process
Now, you have to upgrade your current Nakivo Backup & Replication to the new version, if you want use the new features.
NAKIVO Backup & Replication automatically checks for updates once a day. If an update is available, a notification is displayed in the product web UI. Click the notification link to view information about the update and go to a download page with updaters.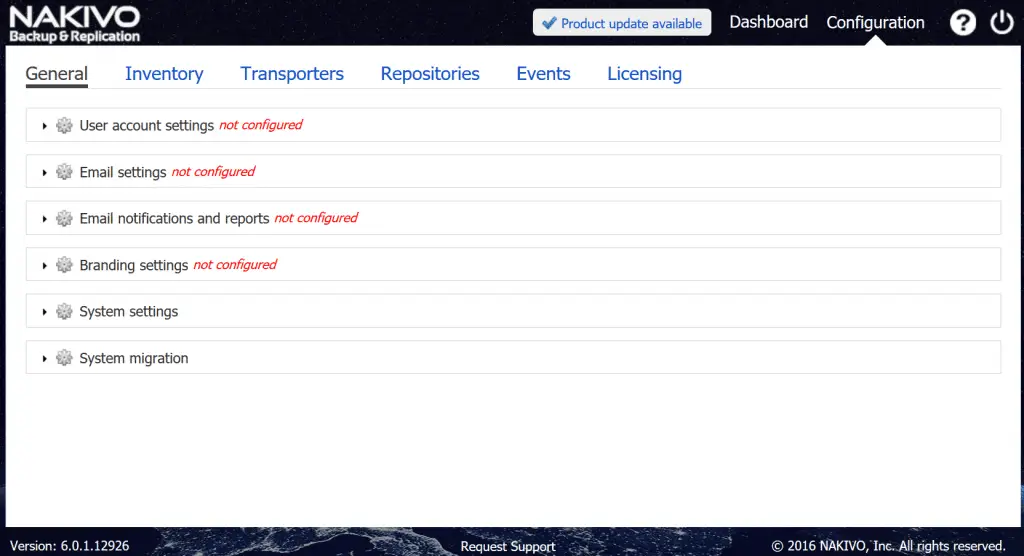 You need to upgrade each machine that it has Director or Transporter role!
Before upgrade, don't forget to take snapshot from VM, if you have installed Nakivo Backup & replication on it.
Or take backup from your physical server. Also check that all jobs are stopped.
There is two ways for upgrading or updating current version to newer version:
Export configurations and import it to a new deployment. It's a migration! Not recommended.
Virtual Appliance/Linux Upgrading
Upgrading or updating Linux version and virtual appliance will be done by same process.
You should upload the updater file "NAKIVO_Backup_Replication_v6.1.0.13795_Updater.sh" to your Linux/Virtual Appliance by SCP or WinSCP.
If you don't have WinSCP in your lab, you should download it from http://winscp.net
The updater file should be uploaded on this path: /opt/nakivo/updates on your Linux/Virtual Appliance.
IMPORTANT: Make sure you are using the binary transfer mode when uploading the updater to the VA.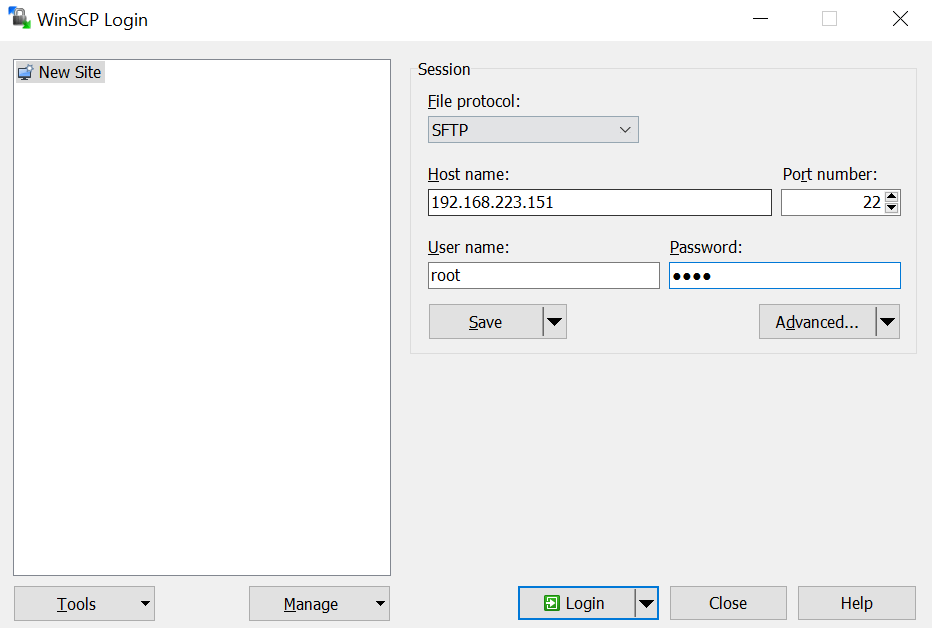 After uploading the updater file, you should run it from the server console:
Choose "Software Update" from the menu: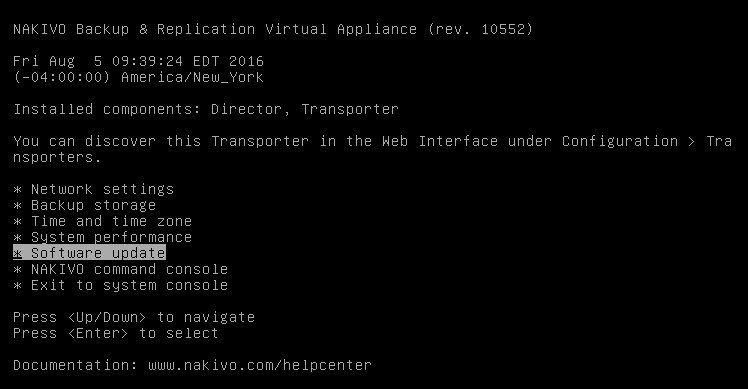 Then if the file was uploaded, you will see it in the updaters list and choose updater file, then hit "Enter":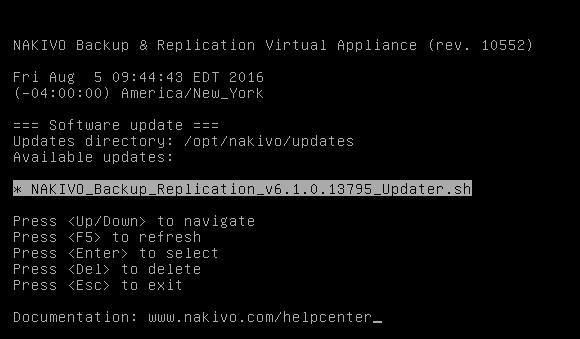 Then you will see the "License Agreement" and you should enter "Y" for accepting that and then enter "Y" again for allowing system to continue the process:
This is wonderful product, easy installation and easy upgrade!
Windows Upgrading
Upgrading Nakivo components on Windows is so easier, just you need to download Windows updater file and run it!
Important: Don't forget wait to stop all running jobs, export your configuration and take backup from virtual or physical server.
[quotes_and_tips]