IBM z15, Less Floor, Four Frames
IBM has introduced the next generation of Z mainframes, IBM z15. Processor, memory capacity and actually everything is improved or bigger than earlier generations.
IBM design z15 generation for more security with advanced encryption features on hybrid cloud.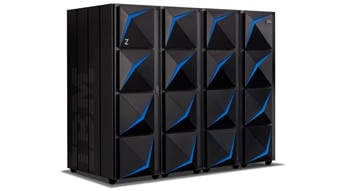 IBM z15 Highlights
Optimization of cost, density, and flexibility with 19″ frame
Embedded infrastructure resilience with the new IBM System Recovery Boost
Protection of data flow within and across datacenters with new
adapters
Availability of compression for broader set of apps with new coprocessor
Aligns with z/OS and Linux on Z colocated workloads
Ultimate Up-time
Now, Instant Recovery offers even more continuous availability by reducing downtime and impact. For your planned downtime, significantly speed up your system recovery time so you can meet your Service Level Agreements.
Agility in Desployment
Integrate public, private and hybrid cloud deployments with agility and security. IBM z15 enables you to develop, manage and transform your core business apps. Cloud native development makes it easy to host container-based applications for hybrid and private cloud workloads, and z/OS® Container Extensions lets you run Linux on Z apps right on z/OS for the first time.
Encryption Everywhere
Protect against insider and external threats. IBM z15 enables you to encrypt all your data, isolate workloads and authenticate access. IBM Data Privacy Passports helps protect data after it leaves the system, minimizing the impact of breaches and noncompliance. IBM z15 with z/OS V2.4 enables redaction of sensitive data from diagnostic files, to protect against data exposure and noncompliance.
Conclusion
Next-Gen Z has lot of improvements compare to IBM z14 and z13. That's classic hardware for enterprise and any business which needs to performance, availability, stability and security.
Further Reading
IBM Introduces Next-Gen Z Mainframe: The z15; Wider Cores, More Cores, More Cache, Still 5.2 GHz