Get Vembu BDR Suite Free NFR Key
Vembu BDR Suite is one of most popular backup and replication software for virtual and physical environments. Actually you need to buy license for Vembu BDR Suite to use it without limitation based on your infrastructure. You can find more information about price and licensing at this link:
https://www.vembu.com/vembu-bdr-suite-pricing/
Free NFR Key Exclusively for SpiceHeads
Now, Vembu offers you NFR license key for Vembu BDR Suite.
Spiceworks Users can now get their hands on NEW Vembu BDR Suite v4.0 for Free, for One Year, for hypervisors(VMware, Hyper-V) and Windows Servers.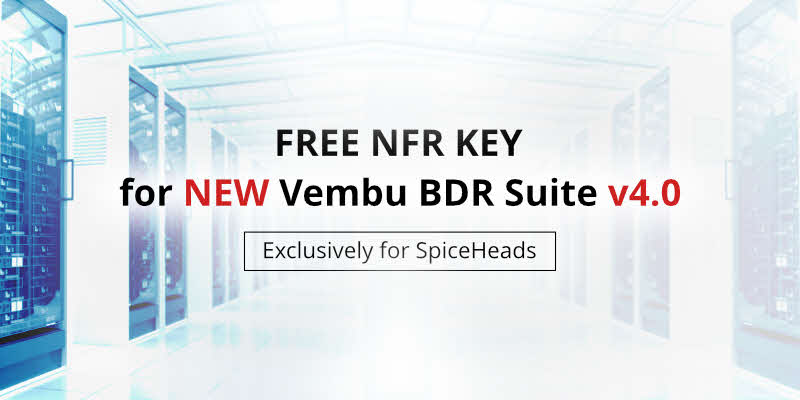 Get 2 CPU Socket Licenses* for Vembu BDR Suite (VMware Backup license or Hyper-V Backup license) + Backup Unlimited VMs , and Get 1 Vembu BDR Suite License* for Windows Server + Backup Unlimited Workstations.
This is a small gesture on Vembu's behalf for the Spiceheads who are instrumental in building and working towards a better IT community. Fill out the form and get your license now.
Vembu BDR Suite is designed for On-premise, Offsite, Cloud Backup, and Disaster Recovery across diverse IT environments including physical, virtual, applications and endpoints.
See Also
[Review]: Vembu BDR Suite v3.9.1
[Review]: Vembu BDR Suite v3.9.0